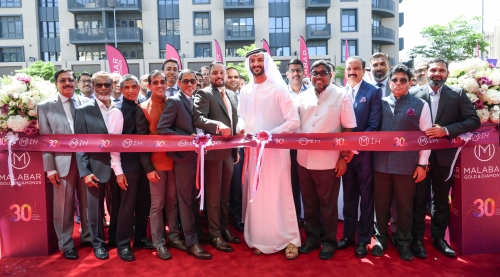 Malabar Gold & Diamonds announces new base for international operations
TDT | Manama
The Daily Tribune – www.newsofbahrain.com

Malabar Gold & Diamonds, the 6th largest jewellery retailer globally with an extensive retail network of over 310 outlets across 10 countries in India, the GCC, Far East and the USA, has unveiled their brandnew global base of international operations, the Malabar International Hub (M-IH) at Dubai Gold Souq in Deira, Dubai.
M-IH was inaugurated by Abdulla Bin Touq Al Marri, Cabinet member and UAE minister of economy on the 22nd of March. Celebrating its 30th year anniversary, the opening of M-IH marks a momentous landmark for Malabar Gold & Diamonds, which began their international operations in 2008 from the UAE.
The 28,000 sq ft LEED Gold Certified hub, which is located in the heart of Dubai's gold district has been designed to be the epicenter of the brand's current and future business aspirations. Spread across 4 floors, houses all functions, from a global centralised supply chain to all enabling and supporting functions for existing operations in GCC, USA, Singapore, and Malaysia.
It also set the foundation for the growth aspirations of the group to continue its ambitious expansion plans into countries such as the UK, Australia, Canada, Turkey, Bangladesh, New Zealand and many more.
The Chairman of Malabar Group, M.P Ahammed commented, "As we celebrate 30 years of providing exemplary jewellery shopping experience to our loyal customers across the world, our dedication towards quality, perfection and service has propelled us to the position of world's most trusted jewellery retailer."
Shamlal Ahamed, Managing Director-International operations, Malabar Gold & Diamonds said, "The removal of import duty through the CEPA will help us in using that to add new international markets as well as improve our retail presence in current markets such as the US. With the opening of our new global base in the UAE, all our existing international operations including the US and Far East will be managed from Dubai."