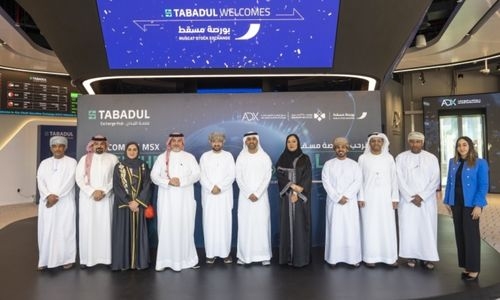 ADX and BHB announce joining of Muscat Stock Exchange to Tabadul
TDT | Manama
The Daily Tribune – www.newsofbahrain.com
The Abu Dhabi Securities Exchange (ADX) and Bahrain Bourse (BHB) announced yesterday that Muscat Stock Exchange (MSX) has joined the "Tabadul" platform, the region's first digital exchange hub, established on the mutual market access model that provides a trading network between stock exchanges regionally.
The MSX-listed securities, along with those of ADX and BHB, are now available for digital trading.
The announcement came during a bell-ringing ceremony, organised by the Abu Dhabi Securities Exchange at its headquarters, in the presence of Saeed Hamad Al Dhaheri ADX's Managing Director and CEO, Shaikh Khalifa Bin Ebrahim Al Khalifa CEO of Bahrain Bourse Haitham Salim Al Salmi CEO of Muscat Stock Exchange, and Dr Maryam Buti Al Suwaidi, CEO of the UAE Securities and Commodities Authority (SCA).
In September 2022, ADX and MSX signed a Memorandum of Understanding (MoU) to strengthen bilateral collaboration in areas related to the exchange of expertise, information, and advisory services, as well as training, facilitating the entry of broker members, developing systems, and enhancing integration.
The MoU was signed on the sidelines of the visit of the UAE President, His Highness Sheikh Mohamed Bin Zayed Al Nahyan to the Sultanate of Oman.
Saeed Hamad Al Dhaheri, Managing Director and Chief Executive Officer of ADX said: "We look forward to working closely with our partners at BHB and MSX to expand investment tools and to add additional financial markets under the Tabadul platform, allowing the region's capital markets to grow and complement each other's financial ecosystems."
Shaikh Khalifa Bin Ebrahim Al Khalifa Chief Executive Officer of Bahrain Bourse commented: "We look forward to onboarding other markets on Tabadul to further develop the platform and support sustained growth of markets."
Haitham Salim Al Salmi, CEO of Muscat Stock Exchange, commented on this saying, "Muscat Stock Exchange's accession to the Tabadul platform is a major step in our ambitious strategy to contribute to the market liquidity and provide varied options for investors."