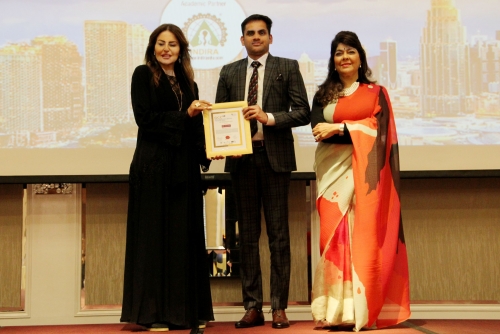 Malabar Gold & Diamonds wins 'Best Employer Brand 2022' award
TDT | Manama
The Daily Tribune – www.newsofbahrain.com
With an impressive retail network of over 290 showrooms across 10 countries, Malabar Gold & Diamonds, the 6th largest jewellery retailer in the world, has received the award for 'Best Employer Brand 2022' at the 9th edition of the prestigious GCC Best Employer Brand Awards, held on the 13th of October 2022.
The brand was endowed the recognition for their excellent working culture and employee relations. The awards were conducted as part of the World Human Resources Development Congress, which brings together thousands of professionals from over 133 countries and has been held regularly since 1993.
Mr. Deepak Ravindran, HR Head of Malabar Gold & Diamonds - International Operations, received the award on behalf of organisation. Malabar Gold & Diamonds is the flagship company of Malabar Group, a leading diversified Indian business conglomerate.
With a robust workforce of 14,000 employees from a diverse range of backgrounds, the management team members at Malabar Gold & Diamonds come from 25 different countries and speak over 50 languages and have been highly trained to manage the varied sensibilities of the company's immense customer base.
The brand also invests considerable time and resources in skill development for employees with regular workshops and classes. "Providing our employees with a comfortable and thriving work environment, extensive opportunities for professional and personal growth, with due importance given to their happiness and satisfaction, has always been a top priority at Malabar Gold & Diamonds.
The experienced workforce that we deploy in all our stores is one of the major driving forces behind our success and it gives us great pleasure to be felicitated as the Best Employer Brand. We will continue to nurture a healthy and safe workspace for our staff and ensure that our brand elevates its standards of a sustainable work environment", said Mr. Abdul Salam KP, Vice-Chairman, Malabar Group.
Maintaining a culture of wellness at work, the company places special emphasis on women empowerment and gender equality and has taken great care to establish a bias free place of work for all genders.
Integrating the principles of ESG (Environmental, Social & Governance) into its core business, the com[1]-pany sets aside 5% of its profits towards Women empowerment, Housing, Health, Education and Environment. The ESG goals of the organization are periodically strengthened by integrating re[1]sponsibility and sustainability to remain a socially conscious and responsible organisation.