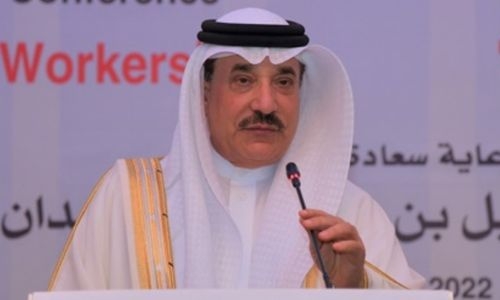 Bahrain will protect rights of all workers: Labour Minister
TDT | Manama
The Daily Tribune – www.newsofbahrain.com
Labour Minister Jameel bin Mohammed Ali Humaidan has affirmed Bahrain's resolve to continue protecting the rights of all workers.
Also Board of Directors Chairman of the Labour Market Regulatory Authority (LMRA), Humaidan said it is based on the system of humanitarian values spearheaded by His Majesty King Hamad bin Isa Al Khalifa, and supported by His Royal Highness Prince Salman bin Hamad Al Khalifa, the Crown Prince and Prime Minister.
The Minister was speaking as he inaugurated yesterday the fifth regional "Social Protection for Domestic Workers" conference, organised by the General Federation OF Bahrain Trade Unions (GFBTU) on October 25-26.
Addressing the opening ceremony of the event, he emphasised that the leadership's support has resulted in strengthening the foundations and principles of improving working conditions for all workers and preserving their rights without discrimination, which contributed to placing Bahrain among developed countries in providing fair and equitable guarantees for workers, earning it a prestigious status at all international labour gatherings.
Humaidan affirmed that the Kingdom has issued innumerable laws, procedures and regulations that provide protection for all.
He also highlighted the measures taken by the LMRA to ensure protection for all expatriate workers, including domestic helpers.
Labour Ministry's Undersecretary, His Highness Shaikh Khalifa bin Salman bin Mohammed Al Khalifa, GFBTU Secretary-General, Abdulqader Abdulkarim Al Shehabi, representatives of the domestic labour exporting and importing countries, in addition to the representatives of civil society organisations from 11 countries attended the conference.
The conference aims to shed light on national legislation and laws related to expatriate domestic workers to enhance cooperation mechanisms between labour organisations in Asia, Africa and the Gulf Cooperation Council (GCC) countries, and to ensure that domestic workers enjoy the same rights enjoyed by their counterparts in other sectors.
It reviewed a research study on the reality of domestic workers in Bahrain, in addition to the legislation in the labour-hosting countries and the extent to which protection for domestic workers is achieved.