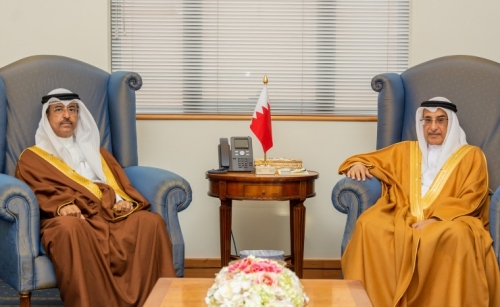 Deputy PM urges faster pace for infrastructure projects
TDT | Manama
The Daily Tribune – www.newsofbahrain.com
Bahrain is keen to move forward with infrastructure projects at a faster pace, said Deputy Prime Minister and Infrastructure Minister Shaikh Khalid bin Abdullah Al Khalifa. The government, Shaikh Khalid said, intends to provide high-quality and efficient services to meet citizens' aspirations and enhance Kingdom's readiness for further investments.
"A major objective is to be able to keep pace with the demands of comprehensive and sustainable development," he said during a meeting with ministers. "This has a special significance with the urban expansion thanks to the new housing cities and the private sector's readiness to invest in the real estate and industrial development sector," Shaikh Khalid added.
Present at the meeting were the Municipality and Agriculture Minister Wael bin Nasser Al Mubarak, the Minister of Transportation and Telecommunications Mohammed bin Thamer Al Kaabi, Works Minister Ibrahim bin Hassan Al Hawaj, Electricity and Water Minister Yasser bin Ibrahim Humaidan, and Housing and Urban Planning Minister Amina bint Ahmed Al Rumaihi.
Shaikh Khalid said the next phase of government action demands intensifying coordination and integration between ministries and government service agencies and working within a team spirit to implement the visions of HRH Crown Prince and Prime Minister to boost services to higher standards.
Shaikh Khalid directed the ministers to finalise the government commitments in its 2019-2022 action plan. He called for prioritising infrastructure projects to integrate them into future policies and initiatives that shape the aspirations of the Government Action Plan.
The review of the projects will be in the workshops ordered by HRH the Crown Prince and Prime Minister, and turned into a road map for the priorities of the Ministerial Committee for Developmental Projects and Infrastructure.