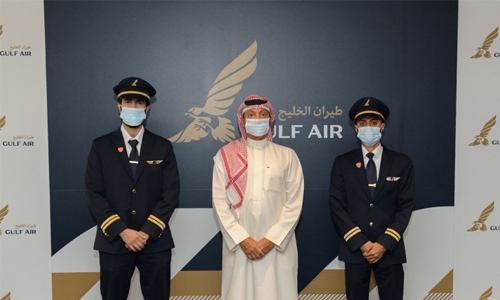 Gulf Air welcomes new experienced Bahraini pilots
TDT | Manama
The Daily Tribune – www.newsofbahrain.com
Gulf Air welcomed a new batch of experienced Bahraini pilots who have recently begun operating flights after completing all the necessary vigorous ground and base training courses.
The new batch of pilots joined Gulf Air from a number of neighboring regional airlines to be part of their national carrier and serve the Kingdom.
The new pilots, Yaser Al Madani and Mohammed Yaquob, joined as First Officers and were congratulated by Gulf Air's Acting Chief Executive Officer Captain Waleed AlAlawi.
"We are proud to have a high rate of local pilots compared to the regional carrier.
This is a major milestone for us to be leaders amongst carriers from our neighboring countries by having local, specialized and professional talents representing our beloved Kingdom in the skies," Al Alawi said.
"We were able to offer both Bahraini first officers the opportunity of employment in Gulf Air and unity with their families after serving regional carriers abroad for years.
This is an important value for us to be able to support Bahrainis abroad to return to the Kingdom and serve their national carrier," he added.
The national carrier selects only the top pilot contenders based on their performance and according to the high standards that Gulf Air has set for its pilots and the Bahrain Civil Aviation Affairs' safety regulations.
The pilots also undergo a very challenging screening process including a technical assessment, followed by a comprehensive technical interview.
Gulf Air has recently appointed nine experienced Bahraini professionals in various roles in the Operations Division.
Gulf Air is a leader in the Bahrainisation program in the Kingdom as it provides the opportunity for local and experienced talents to work in its various areas of the airline's business and is committed to invest in its Bahraini workforce and their career development.
The airline continues to provide opportunities for Bahraini nationals to take over higher management positions in the company.