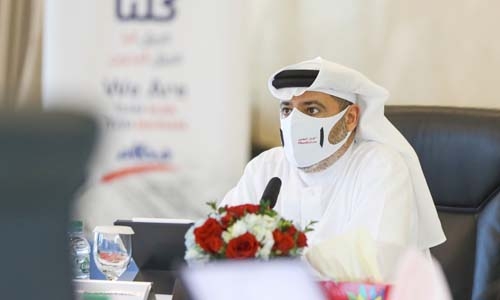 Alba on track to set new benchmarks: Shaikh Daij
TDT | Manama
The Daily Tribune – www.newsofbahrain.com
Aluminium Bahrain is on track to set new benchmarks by finishing 2021 strong, Chairman of Alba's Board of Directors, Shaikh Daij Bin Salman Bin Daij Al Khalifa, told an in-person board of directors meeting.
The meeting for the fourth quarter of 2021 was held in line with COVID-19 protocols and guidelines by Bahrain National Medical Task Force for Combatting the Coronavirus at Alba Oasis Hall. Shaikh Daij started the meeting by: "thanking the Management team and everyone in the workforce on record-breaking performance for the 9-months of 2021."
"We are also pleased to issue a Limited Notice to Proceed, subject to successful financial closure, towards Mitsubishi & SEPCO III Consortium to be the Engineering, Procurement and Construction contractor for the fourth additional block in Power Station 5."
"As we chart our way towards integrating ESG in every aspect of our business to meet Bahrain's National Green Initiatives, Power Station 5 – Block 4 will bring us one step closer in our race towards decarbonization in terms of higher efficiency and lower greenhouse gas (GHG) emissions," he added.
Block 4 will add 680.9 MW to Power Station 5's 1,800 MW and scale up its total capacity to 2,480 MW." The meeting approved 2022 Marketing Plan, 2022 Annual Operating Plan, Offtake agreement with South32 for the supply of Alumina over 10 years from 2023 to 2032 and 2022 proposed schedule for the Board and Committee meetings.
During the meeting, Alba Management highlighted overall performance in light of market conditions and shared insights in respect to overall Sales despite logistic challenges, VAP Sales, Safety and ESG, Plant performance, financial performance-to-date, Al Hassalah programme, and Spent Pot Lining Treatment Plant construction progress as well as updates on 5-year Strategic Initiatives.
Alba board comprises six directors appointed by Bahrain Mumtalakat Holding Company Yousif Abdulla Taqi, Suha Karzoon, Shaikh Isa Bin Khalid Al Khalifa, Tim Murray and Rasha Sabkar.
The three directors appointed by Sabic Industrial Investments are Ahmed Al Duriaan, Iyad Al Garawi and Omar Al Amoudi and one elected director, Mutlaq Al-Morished.

Alba's Board of Directors during the Board Meeting for Q4 2021