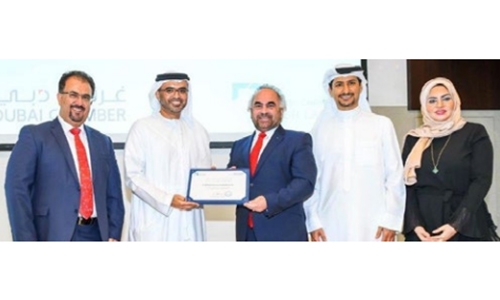 GPIC receives Dubai Chamber CSR Label Award for Excellence
The Gulf Petrochemical Industries Company (GPIC) has won the Dubai Chamber CSR Label Award for excellence in delivering innovative programmes in community service and sustainability. The award by the Business Ethics Centre was presented during a ceremony in Dubai in the presence Chamber Chairman Majid Saif Al Ghurair, heads of companies, institutions and businessmen.
It recognises GPIC's corporate compliance with sustainable global best practices in the service of the environment and society. Dr Jawahery said, "I hope the GPIC's leading role in the field of social responsibility will inspire other companies and institutions to take more initiatives to reach out to their communities."
The centre has so far awarded 359 companies in the areas of the workplace, market, environment and the local community. This year, 33 organisations received the award. These include four companies that have won the advanced brand recently developed by the chamber.