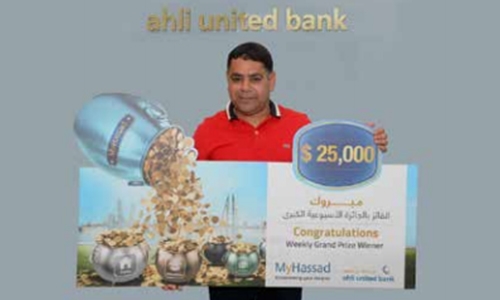 AUB names MyHassad weekly, monthly winners for July
Ahli United Bank (AUB) has announced the winners of its MyHassad Weekly & Monthly Grand Prizes for July 2019.
A. Latif Saeed Habib Ali, A.Hussain Habib Mohd Al Aali, Hasan Isa Mohammed Hussain Sarhan, and Hissa Mohammed Ali Ahmed won MyHassad Weekly Grand Prize of US$25,000 each, and Hussain Sayed Ali Sayed Ismaeil Behbehani won MyHassad Monthly Grand Prize of BD100,000. Hasan Isa Sarhan said: "I did not expect I would win in MyHassad draws. I am a customer of Ahli United Bank and participated in MyHassad programme for 10 years at Sitra branch."
When asked about his plans for the prize, he said: "I have no plans yet so I will invest the prize money in MyHassad programme." AUB also announced the winners of MyHassad Weekly Grand Prizes for June 2019. Hasan Radhi Ali Ahmed, Sakeena A.Nabi Ebrahim, and Aneesa Hussain Murtaza won a prize of US$25,000 each.
Since its inception, MyHassad has offered cash prizes exceeding BD67 million in Bahrain for more than 16 thousand winners from its customers.