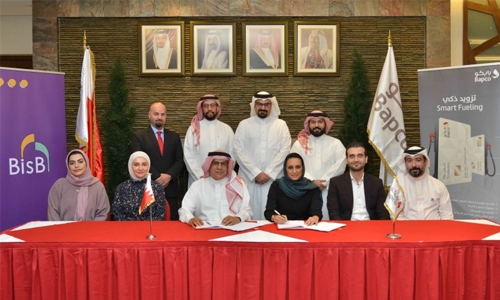 Free 'Sadeem' cards: BisB, Bapco in deal
Bahrain Islamic Bank (BisB) has signed an exclusive partnership with Bahrain Petroleum Company (Bapco), for issuing free Sadeem cards to the Bank's Credit Card holders, with a credit balance of BD5. The signing was held in the presence of Dalal Ahmed AlGhais, General Manager of Retail Banking at BisB, and BAPCO's General Manager Marketing Khalid Bu Hazza.
As part, BisB's Credit Cardholders will be exempted from paying the Sadeem Card registration fee of BD3 and will be able to refill the card via BisB's online banking platform. Furthermore, customers enrolled in BisB's Rewards Programme will be able to convert their reward points into Sadeem credit for future use.
On this occasion, Dalal Al Ghais, General Manager of Retail Banking commented, "These partnerships come in line with our aim to provide simple solutions that suit and facilitate our customers' daily lifestyle needs; especially with regards to their credit card spending and utilization." On his part, Khalid Bu Hazza expressed BAPCO's pride in signing this partnership agreement with BisB.