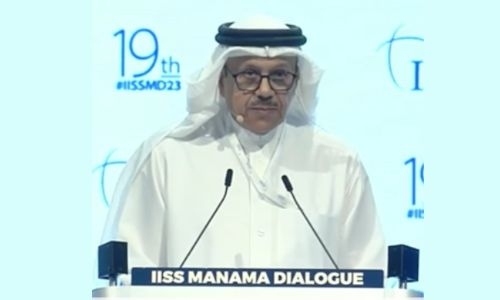 Two-state solution key to stability: Bahrain Foreign Affairs Minister
TDT | Manama
The Daily Tribune – www.newsofbahrain.com
Foreign Affairs Minister Dr. Abdullatif bin Rashid Al Zayani reiterated Bahrain's unwavering stance on a two-state solution for ending the Palestine-Israel conflict during the 19th Manama Dialogue Conference.
Highlighting the critical need for immediate humanitarian assistance, the provision of basic services, hostage release, and collaborative efforts to halt the ongoing conflict in the Gaza Strip, Dr. Al Zayani asserted that a resolution to the conflict necessitates a two-state solution.
The remarks came during the conference's second plenary session, themed "Navigating Global Competition."
Commending the opening speech by HRH the Crown Prince and Prime Minister, Prince Salman bin Hamad Al Khalifa, Dr. Al Zayani further underscored the importance of recognising Israel's security concerns to prevent the region from remaining on the brink of conflict and instability.
Reflecting on the historical competition for land, resources, and influence in the Arabian Gulf and the Middle East, Dr. Al Zayani noted the region's enduring struggles are caused by political, diplomatic, economic, and military strategies employed by countries within and outside the Middle East.
He emphasised the ongoing complexity and inclusivity of this competition, resulting in conflicts, instability, human suffering, and hindered development.
"This competition is still ongoing and has become more complex, dynamic, and inclusive."
Bahrain, according to Dr. Al Zayani, places significant value on mutual respect, dialogue, and tolerance.
These principles, he said, are crucial not only for maintaining positive relations but also for shaping constructive engagement with the global community.
Further addressing the deeply rooted challenges in the Middle East, the Foreign Minister stressed the necessity of tackling the presence of violent nonstate actors and proxy groups contributing to regional instability, sectarianism, and heightened tensions.
Dr. Al Zayani emphasised the interconnectedness of regional countries, highlighting their importance for overall prosperity, peaceful coexistence, and conflict resolution in the Middle East.