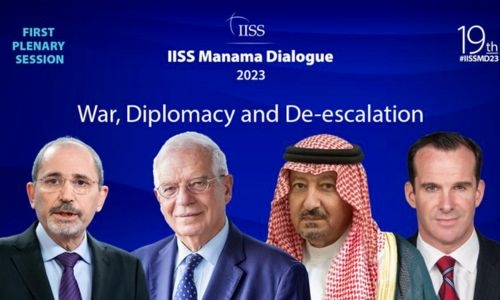 IISS Manama Dialogue on day 2 addresses war diplomacy, de-escalation in Gaza
TDT | Manama
The Daily Tribune – www.newsofbahrain.com
Report by Ashen Tharaka
The ongoing war in Gaza took centre stage at the Manama Dialogue forum yesterday, where high-level officials from Jordan, the United States, the European Union, and Saudi Arabia exchanged views on the urgent need for diplomacy and de-escalation.
In his opening remarks, Ayman Safadi, Jordan's Deputy Prime Minister and Minister of Foreign Affairs and Expatriates, strongly condemned Israel's bombardment of Gaza and the resulting civilian casualties.
"Keeping Gaza as an open prison is unprecedented," he declared, emphasising the need to prioritise an immediate cessation of hostilities.
Safadi outlined three key points: halting the war, providing humanitarian assistance to Gaza, and pursuing a two-state solution as a permanent resolution to the conflict.
He underscored the importance of the United States' role in facilitating a peaceful outcome.
"If another country did what Israel is doing now, they would be sanctioned. Why is international law not being applied?" Safadi asked, urging the international community to hold Israel accountable for its actions. He further emphasised that negotiation is the path to peace and that the root causes of the conflict must be addressed.
"Everyone supports the two-state solution, but Israel continues its occupation," Safadi asserted. "Israel is creating an ugly reality in Gaza."
Responding to Safadi's concerns, Brett McGurk, Coordinator for the Middle East and North Africa at the National Security Council, reaffirmed the United States' priority of securing the release of hostages.
"Steps towards releasing hostages would lead to a major shift in the fighting," McGurk stated.
"If the hostages are released, you will see a significant change." McGurk outlined seven key points: opposition to forced displacement in Gaza, no occupation of Gaza, no reduction of Gaza's territory, prevention of Gaza from being used for terrorism, separation of innocent civilians from terrorists, return of the West Bank to a future Palestinian state, and ensuring Israel's security.
Josep Borrell Fontelles, High Representative and Vice-President of the European Commission, commended Bahrain's Crown Prince, Deputy Supreme Commander of the Armed Forces, and Prime Minister, His Royal Highness Prince Salman bin Hamad Al Khalifa, for his bold steps towards resolving the conflict.
"Israel deserves security, and the Palestinian people deserve dignity. Peace is possible, but how many innocent lives will be lost before we can reach it? We have a duty to work hard now for it," Borrell declared.
He emphasised the European Union's deep concern for security and peace.
Waleed Al Khuraiji, Deputy Minister of Foreign Affairs of Saudi Arabia, affirmed the kingdom's commitment to establishing a unified Islamic voice to support the Palestinians, work towards a ceasefire and hostage release, and achieve sustainable peace.
Condemning the military aggression against Palestinian civilians, Saudi Arabia's Deputy Foreign Minister asserted that "Israel should protect the Palestinian people's legitimate rights."