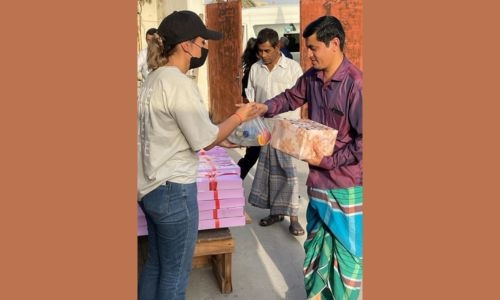 Wage delays leave workers stranded, in need for food support: OneHeartBahrain
TDT | Manama
The Daily Tribune – www.newsofbahrain.com
Report by Zahra Ayaz
The COVID-19 pandemic has caused massive job losses around the world, leaving many workers in a state of desperation.
As businesses shut down or reduce operations, millions of people have lost their livelihoods and struggled to make ends meet, causing an increased call for food support.
During those times, non-profit organisations and charities have reported a surge in demand for food support as the pandemic has left many without a stable income.
However, OneHeartBahrain, a charity organisation, says they are now experiencing a similar spike in food support requests, especially from workers, but for a different reason: delay in wages, mostly up to six months.
Birthe, founder of the charity, likens the situation to that of pandemic. "During those times, many lost their jobs, and even those who hadn't had to live with halved salaries," she told The Daily Tribune, "This had left several even without the means to purchase a flight ticket back home.
"And just as things were looking bright, starting the past month, we are again experiencing an increased call for food support," Birthe said. She attributes this spike to workers who are facing wage delays of up to six months.
According to Birthe, the fallout from this situation is that there are also those who out of desperation had left the company, seeking alternative employment.
"Some were successful and others weren't and are completely destitute."
According to her, those fallen into such desperate situation mostly are individuals from the African continent.
She claims most of them had funded their visa and jobs in Bahrain by selling every thing they had, including houses.
They paid agencies dearly under the illusion that their work visas and employment arrangements were in place.
"But instead found themselves marred with visa and job delays of upto several months. "Once they were able to start, their companies stopped paying after a month or so, citing financial difficulties, further exasperating their situation. "Now, they are stranded with mounting debt and had to fully rely on the charity to wade through."
Birthe said they had been providing food rations to people in need — individuals, families and large groups of labourers — for the past four years.
"On this Labour Day, we are partnering with Facebook group, British Mums Living in Bahrain, who have 1900 plus members, and Dilmun Sports & Social Club in a Shoebox Appeal, inviting people to donate boxes with useful little gifts inside that we will hand out to labourers.
Ellisa Williamson, Founder of British Mums Living in Bahrain told The Daily Tribune, said the campaign offers them an opportunity to give back to the wider community and honour the workers who contribute so much to this country.
"The ladies will also volunteer in the Labour Day distributions on Monday, which will involve giving away the gift boxes together with a warm meal prepared."