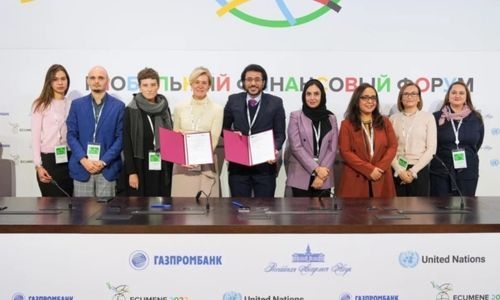 Derasat, Russia's ICLRC join hands
TDT | Manama
The Daily Tribune – www.newsofbahrain.com
The Bahrain Centre for Strategic, International and Energy Studies (Derasat) signed a Memorandum of Understanding with the International and Comparative Law Research Centre in Moscow, as part of Derasat's efforts to expand its research partnerships with various think tanks around the world.
The agreement was signed on the sidelines of Derasat's delegation's participation in the 2022 Ecumene Global Financial Forum held from 28 to 30 September.
The agreement was jointly signed by Derasat Executive Director Dr Hamad Ebrahim Al-Abdulla and ICLRC Director General Dr Ekaterina Salugina-Sorokovaya.
Present during the signing ceremony were Shaikha Nayla bint Ali Al-Khalifa, Director of Communications and Knowledge Management, and Ejlal Essa Bubshait, Director of Opinion Polls and Surveys at Derasat.
The agreement confirmed both centres' keen focus on enhancing research cooperation, exchanging publications, and organizing joint events and seminars on various issues and areas of common interest.
The Ecumene Forum attended by the Derasat delegation discussed several topics, among which were climate change, the economics of biodiversity, sustainable development for cities and the world, women's role in advancing sustainable development, continuous education, and other important matters.