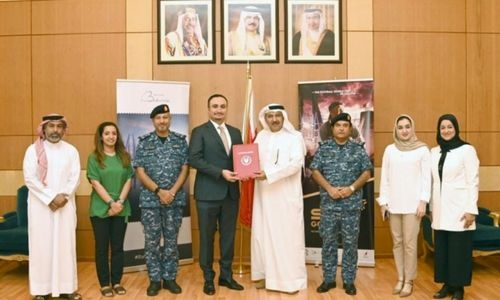 BTEA backs SSL Gold Cup Final Series 2022
TDT | Manama
The Daily Tribune – www.newsofbahrain.com
The Final Series of SSL GOLD CUP 2022 -the inaugural Sailing Championship - has received the strategic partnership of the Bahrain Tourism and Exhibition Authority (BTEA). The Sailing Athletes Foundation (SAF), in conjunction with the Bahrain Maritime Sports Association, is hosting the SSL GOLD CUP, a World Sailing Special Event, for the first time in Bahrain on October 28 - November 20.
The SSL GOLD CUP gives a singular equal opportunity challenge for all the 40 nations that race on the same boat, the SSL47, a 14-meter performance racing boat, provided by the organizers.
These nations are the world's top 23 sailing nations,16 teams from the qualifying series and SSL Team Bahrain, the host nation. Eleven athletes from each squad are from all in-shore sailing classes, including Olympic champions and medalists, Olympians, and world champions.
The best Bahraini athletes will represent the Kingdom in the competition. The Players Foundation for Sail has nominated Abdullah Janahi as the team's captain. The Bahrain squad will be known as the "Bahrain Shark."
BTEA CEO Dr. Nasser Qaedi outlined how the Authority's support for the SSL GOLD CUP 2022 Final is part of its commitment to promote various sporting events in Bahrain, invest in their growth, and increase operating rates and revenues for the tourism sector.
"The hosting of the SSL GOLD CUP 2022 is a significant sporting event and a chance to support sports tourism in the Kingdom" Dr. Qaedi said.
"We are eager to lend this global championship the assistance it requires and will also extend a warm welcome to all of the competing teams, as well as to their supporters and companions from other countries."
Dr. Qaedi emphasized that Bahrain has always taken the initiative to host international sporting events, such as the Military World Championship and the Kingdom Sailing Yacht Championships, in addition to the F1 Bahrain Grand Prix since 2004, Asian Cycling Championships in 2017, Amateur MMA World Championship in 2017, 2018, and 2019, and other world and continental championships, all of which have had a positive impact on many sectors, particularly tourism.
Shaikh Khalifa Bin Abdulla Al Khalifa, the President of Bahrain Maritime Sports Association, said that with BTEA's support, the SSL Gold Cup Final Series 2022 in Bahrain gains unprecedented momentum and becomes more well-known locally, regionally, and internationally, especially given the rise in interest and enthusiasm for this category of water sports.
Shaikh Khalifa affirmed that the SSL Gold Cup Final Series will become an international sporting event that originated in Bahrain and is headed toward globalization. He added that the organizers are eager to organize this tournament in a prestigious manner that follows the aspirations of BTEA, Bahrain, and all sports enthusiasts.