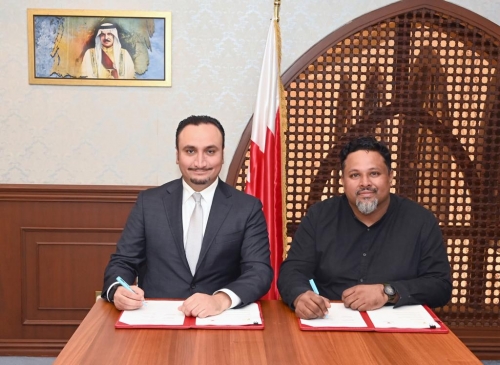 Tourism supports BNP Paribas Bahrain Jazz Festival in collaboration with Clockwork
TDT | Manama
The Daily Tribune – www.newsofbahrain.com
The Bahrain Tourism and Exhibitions Authority (BTEA) has signed a strategic partnership with Clockwork to support and promote the BNP Paribas Bahrain Jazz Fest 2022, to be held on December 2nd, 2022 at the Bahrain Rugby Football Club as an outdoor, family-friendly event under the theme 'Jazz Unmasked'. This year's event promises to be a memorable one with Grammy nominated artists, award winning acts, educational programs and a month-long series of events that celebrate the confluence of communities and jazz music.
Dr. Nasser Qaedi, CEO of BTEA, said that organizing this festival stems from the authority's efforts to host yearly events that meet the needs of a broad range of tourists, citizens and residents. He added that this event is part of a series of events organized by BTEA during this season in cooperation with the private sector.
During the meeting with Jude D'Souza, Managing Director of Clockwork who is the organiser of the BNP Paribas Bahrain Jazz Fest 2022, Dr. Qaedi affirmed the support of BTEA for various innovative events that will enrich the tourism sector in Bahrain, enhancing its attractiveness and integration.
For his part Mr. D'Souza extended his thanks to BTEA for its support to the Festival, expressing his confidence that this festival will provide a unique experience, saying: "This strategic partnership between the BTEA and Clockwork is a significant boost to the festival. With many international visitors and artists visiting Bahrain for this event every year, it puts Bahrain on the international music map. We are therefore happy that there will be festival packages for our international visitors, made in collaboration with our strategic partner, Bahrain Tourism and Exhibitions Authority, which will include flights, hotel accommodation, festival tickets, tours and more. We thank the BTEA for all its support".
He added: "An internationally benchmarked festival is all about the experiences we create for the festival attendees. We are very pleased to have major organizations that believe in our idea and support our ambitions, especially our presenting partner BNP Paribas and strategic partner Bahrain Tourism and Exhibitions Authority."
Established in 2017, the BNP Paribas Bahrain Jazz Fest has now grown to be the most awaited music festival in Bahrain's event calendar. The festival has attracted more than 20,000 visitors since its inception and hosted more than 100+ jazz musicians from Bahrain and around the world and is now firmly placed on the world jazz map, growing in strength with every year.