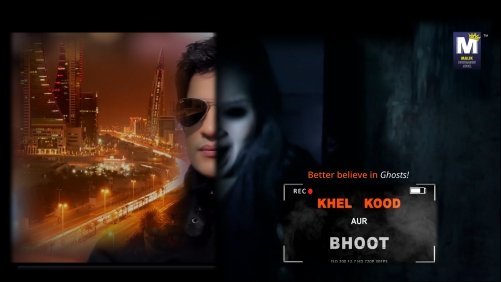 World theatrical premiere for Bollywood movie shot in Bahrain
TDT | Manama
The Daily Tribune – www.newsofbahrain.com
Staff Reporter
Moviegoers are in for a treat as the first Bollywood film that was considerably shot in Bahrain is set to release here next month with a world theatrical premiere in Bahrain. Khel Kood Aur Bhoot (Fun, Frolic, and Ghost) is the brainchild of Bahraini award-winning journalist turned film-maker and actor Adnan Malik.
The 130-minute Hindi film with English and Arabic subtitles will be premiering exclusively at the Cinepolis, Atrium Mall and will be mostly invite-only. However, it will subsequently be released in theatres across Bahrain following the red-carpet event.
"Cinepolis is an exotic global theater chain and this is really a great deal for me as an independent filmmaker and I'm extremely grateful to God for this," said an ecstatic Malik from Mumbai explaining that the cinema operator, which is one of the fourth largest cinema chains in the world, "immediately saw the merits of releasing this independently produced movie."
"We are making history here as the first Bollywood film to release in theatres after releasing online. This has never happened before in Hindi cinema." Normally, Bollywood movies release in theatres and then go to the OTT platform and subsequently to satellite channels, explained Malik.
The comedy-horror, which is inspired by true events, made an online debut on India's largest OTT platform on May 13 this year. "Independent films often fall under the radar, are bypassed or overlooked in favor of popular movie titles with a wellknown star cast so this is truly a historic moment for the movie and our kingdom," said Malik, adding that he is also "extremely grateful" to the Ministry of Information for their support in censoring the movie and the Dubai-based digital content distributors Scrabble, Qubewire for delivering the content and Phars Film Co. for the go-ahead for censor screening.
"This is the first Bollywood movie shot in Bahrain so I had to somehow bring the movie here," said Malik adding that he was overwhelmed with requests from family, friends, and many acquaintances from Bahrain and the region after they watched his gripping teaser online and the news broke about the film's release in our newspaper.
The movie already has rave reviews and scores on popular, reliable, and authoritative movie content sites like IMBD and a 100 per cent score on the extremely popular Indian movies' site Bollywood Hungama.
Speaking to The Daily Tribune, Alejandro Aguilera, CEO of Cinépolis Cinemas Gulf Region, said: "We are very excited to collaborate in the release and premiere of Khel Kood Aur Bhoot at Cinépolis Cinemas in Bahrain. "Cinépolis is constantly looking for new content to bring audiences the best experiences and to continue to enjoy the thrill of watching a movie on the big screen."
The movie cast includes Malik, Poonam Mohapatra, Vijayaa Shanker, Deepika Khanna, Shahrukh Buhariwala, Nicolaina D'Souza, and Pranav Verma. For details, follow @malikentmovies on Instagram. The curtain-raiser and trailers are available on MEM's YouTube channel.