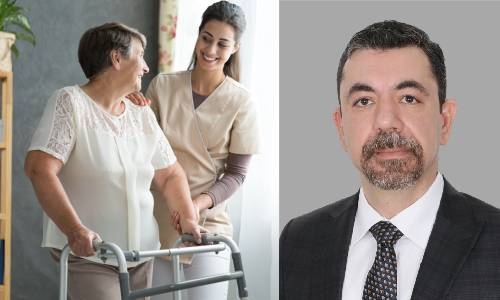 KIMSHEALTH provides patients with quality 'Health at Home' care services
TDT | Manama
The Daily Tribune – www.newsofbahrain.com
KIMSHEALTH has been promoting "Health at Home" as its home care services brand the past two year of the Covid-19 pandemic. This was emphasised by Dr Ahmed Al Rashid, Chief Operating Officer at Royal Bahrain Hospital, as he spoke about their comprehensive home healthcare services, benefits and advantages, as well as plans for addition of new ones.
KIMSHEALTH is a prominent healthcare provider in the GCC having a chain of hospitals like Royal Bahrain Hospital and KIMSHEALTH Hospital in Bahrain and other health facilities in Oman, Saudi Arabia, Qatar and the UAE.
"Health at Home provides patients the option to access healthcare in the comfort and convenience of their homes without compromising on the quality of care," Dr Al Rashid said.
"We follow the best practices in providing care and maintain the highest international standards and protocols. We have been serving our patients since 2014 and have done more than 10,000 home visits till now."
The Health at Home's services range from doctor visits, whereby GP doctor visits the home, performs a medical assessment and consultation, may recommend tests and create a treatment plan, or alternatively in some instances may refer the patient to the required specialist.
They also include nursing visits for monitoring patient's condition, injection administration, wound dressings, sample collection for blood investigations, tube feedings and catheter care. Additionally, the hospital provides rehabilitation and physiotherapy for patients recovering after surgery, stroke, trauma, COVID and other conditions.
The therapists also work with children who may benefit from rehabilitation at home in their familiar surroundings, and provides delivery and supply of consumable and medications.
Dr Al Rashid said: "Besides safety, comfort and convenience for patients, home care services allow personalised care, faster recovery with less risk of hospital infections, cost savings from reduced hospital stay and relief for family and caregivers.
"We deliver our service through a qualified and competent team comprising trained and licensed medical, nursing and support staff who undertake continuous training and quality assurance programs. They follow the strictest infection control protocols when visiting homes and wear complete PPE kit and also ensure proper counselling is provided to family members on how to maintain hygiene and infection control around patients."
For more information and to book homecare services with Health at Home, patients can contact the hospital's homecare number 39419238. They can provide details and book appointment for any of its services from 8am to 7pm.