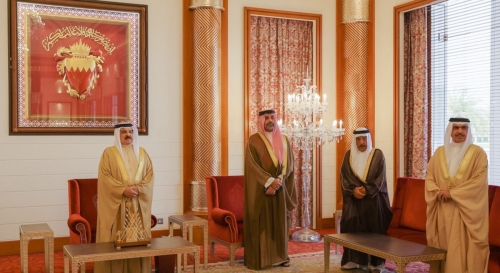 Bahrain King directs new Capital Governor to provide people's needs, upgrade services
TDT | Manama
The Daily Tribune – www.newsofbahrain.com
His Majesty King Hamad bin Isa Al Khalifa has affirmed that Bahraini citizens will remain a top priority, being the main pillar of the development process.
HM the King commended the efforts of the governors and the role of the governorates in fostering the spirit of national unity, citizenship, communication, cooperation and coexistence between all social components.
This came as His Majesty received at Safriya Palace yesterday Shaikh Rashid bin Abdulrahman bin Rashid Al Khalifa on the occasion of the issuance of a royal decree appointing him as Capital Governor.
Shaikh Rashid took the legal oath before HM King Hamad. His Majesty congratulated him, lauding his experience and competence, wishing him every success in assuming his national responsibility. He directed the new Capital Governor to work on catering for all the needs of people in the governorate and upgrade the services provided for them.
Shaikh Rashid extended utmost thanks and gratitude to HM the King for the royal trust and valuable directives, pledging to spare no effort in serving the kingdom and its people and wishing His Majesty abundant health and happiness.