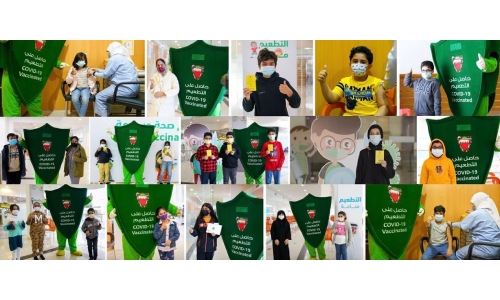 TDT | Manama
The Daily Tribune – www.newsofbahrain.com
The vaccination rate for children aged 12 to 17 has reached 91% in yet another success for the Kingdom of Bahrain's fight against the coronavirus (COVID-19).
Meanwhile, the National Medical Taskforce for Combatting the Coronavirus (COVID-19) announced that the Kingdom will remain on the Yellow Alert Level until 14 February.
The number of children aged 3 to 11 who were immunised has reached more than 17,000, while those who are already registered and waiting for their turn reached more than 25,000.
This was announced by Lt. Col. Doctor Manaf Al Qahtani, Infectious Disease Consultant and Microbiologist at the BDF Hospital and member of the National Medical Taskforce for Combatting the Coronavirus (COVID-19), at a press conference yesterday.
Dr Al Qahtani thanked parents for allowing their children to get vaccinated as part of the Kingdom's national efforts to combat COVID-19.
He called on other parents to have their children receive their doses as soon as possible to ensure their safety and those around them.
The health official noted that vaccinations and the booster shot have proven to be effective in reducing the severity of symptoms and mortality rates in case of infection.
Dr Al Qahtani called on all eligible individuals to get fully vaccinated, and take the booster shot, according to updated vaccination protocols.
The health and safety of citizens and residents continue to be a top priority, he noted.
Dr Al Qahtani said that the national vaccination campaign was introduced to preserve public health, and since its inception until today, its procedures and protocols have been updated following international best practices.
He highlighted the importance of getting fully vaccinated and receiving a booster shot, as vaccinations protect against the virus by bolstering the body's immunity.
The task force member also underlined the success of the national vaccination campaign, saying that ensuring community awareness has resulted in the widespread acceptance of vaccination, with 94% of eligible individuals who are over 18 having received two vaccine doses, and 83% of eligible individuals having received a booster shot.