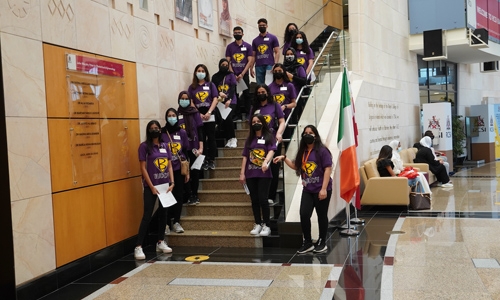 RCSI Bahrain welcomes new students for academic year 2021-22
TDT | Manama
The Daily Tribune – www.newsofbahrain.com
Marking the start of academic year 2021-22, the Royal College of Surgeons in Ireland-Medical University of Bahrain (RCSI Bahrain) welcomed the new cohort of students during orientation.
More than 390 students divided into small groups were welcomed on campus over a period of three weeks to be familiarised with the resources and assistance available, as well as the latest health and safety regulations on campus.
Led by the Student Services, Events and Sports and Recreation Department, the orientation of the new cohort was an opportunity for all new students to take an induction tour, participate in ice-breaker activities, receive their registration pack and finalise their registration process, in accordance with the rules and regulations of the Higher Education Council in Bahrain.
RCSI Bahrain's community blends a variety of characters and cultures from around the globe.
With 48 distinct nationalities across all the programmes, this year's new cohort consists of 23 nationalities, with Bahraini students making up circa 50% of the new intake, 30% of the students are from the Middle East, 10% from North America, and 10% from Asia and Europe.
Following the orientation week, students commenced their digitally-engaged learning period followed by physically-distanced blended learning, during which they had several opportunities to get to know their fellow students through online academic and non-academic activities.
Students are able to attend campus in small groups called 'Learning Communities', which provides them with a personalised learning experi-ence.
RCSI Bahrain has planned the delivery of the academic programme in line with international guidelines, the guidelines set out by the National Taskforce Committee and the Ministry of Health of the Kingdom of Bahrain.