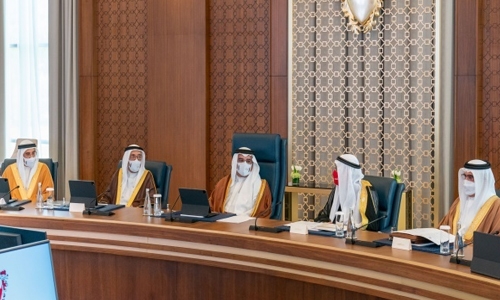 Bahrain economic recovery on track
TDT | Manama
The Daily Tribune – www.newsofbahrain.com
Bahrain's economic recovery has remained on track as reflected by the significant growth in important sectors.
The Cabinet, chaired yesterday by His Royal Highness Prince Salman bin Hamad Al Khalifa, the Crown Prince and Prime Minister, reviewed a summary of the performance of key economic indicators periodically monitored by the Ministry of Finance and National Economy, up to August 2021.
The Ministry provided a comparison to the same periods in 2020 and 2019, showing signs of recovery and return to levels registered before the global pandemic.
The findings are as follows:
• In the real estate sector, the number of building permits issued in the first eight months of 2021 increased by 18% compared to the same period in 2019, while for August 2021 alone, the number exceeded that recorded in August 2019 by 64.6%.
• Total spending using Point of Sales machine ATM cards issued in the Kingdom in August increased by 55% compared to the same period in 2019.
• The value of Bahrain's non-oil exports of national origin increased by 103% during August 2021 compared to August 2019, while imports grew by 16% during the same period.
• The tourism sector's recovery is shown by several indicators, including the occupancy rate of 4- and 5-star hotels which exceeded 48% in August 2021.
• The second edition of the National Employment Programme achieved 70% of its goals in terms of employment and training. The programme has succeeded in employing more than 17,000 Bahrainis and training more than 7,000 Bahrainis.