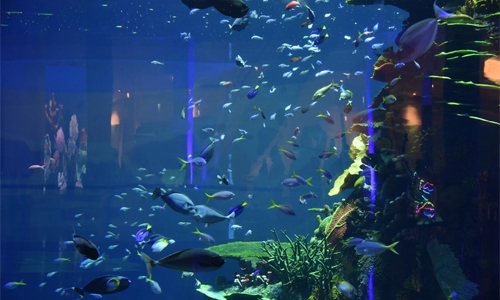 Enjoy experience and learn about marine life at Bahrain Aquarium in Mall of Dilmunia
TDT | Manama
The Daily Tribune – www.newsofbahrain.com
The Bahrain Aquarium in Mall of Dilmunia is one of today's most exciting tourist destinations in the Kingdom and the region being the first and largest mall-based cylindrical structure of its kind in the Middle East.
At present, it is home to more than 2,700 aquatic creatures from 85 species including stingrays, clownfish, Arabian turquoise fish and various sharks from the Arabian Sea, Pacific Ocean and the Indian Ocean.
However, the number will increase over the next few years to over 4,000.
The Bahrain Aquarium – which rises to a height of 17 metres and has a diameter of seven metres – stretches over four floors of the Mall of Dilmunia, allowing visitors to both watch and interact with marine life. It contains 700,000 litres of seawater.
On the second floor of the mall, visitors x– including children – will be able to feed and touch some of the fish, which will be an exciting experience for them to learn more about aquatic and marine life.
Certified divers will also have the opportunity to explore the cylindrical tank from the inside.
"The idea was to create a destination for tourists and residents as well," said Shaikh Mohammed Duaij Al Khalifa, CEO of Mall of Dilmunia. Bahrain Aquarium is more than a backdrop for the mall's activities. Educational tours and classes will be offered, giving an insight into the ecosystems and marine life of Bahrain.
"We are thrilled to be launching soon a diverse mix of exhilarating activities for aqua lovers in the kingdom," said Rebecca Charlotte Arnold, Deputy CEO of Mall of Dilmunia.
"Mall of Dilmunia is confident that Bahrain Aquarium will give people the opportunity to engage in a range of activities which will be fun, interactive, and educational.
"Combining the mall's strategic location, breathtaking views, various amenities and entertainment venues, Bahrain Aquarium is an outstanding addition to Mall of Dilmunia."