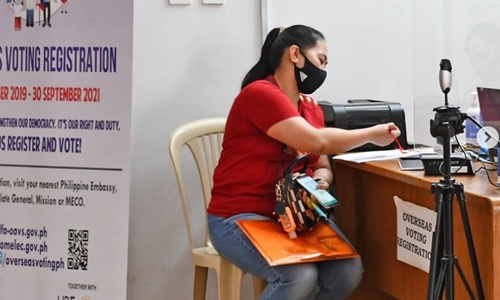 Filipinos in Bahrain urged to exercise right to vote
TDT | Manama
The Daily Tribune – www.newsofbahrain.com
Filipinos in Bahrain are urged to register to be able to vote in May next year's Philippine national elections and get the right and duty to choose the next leaders of the country.
There is still enough time before overseas voting registration comes to an end on September 30.
The Embassy of the Philippine in the Kingdom are advising Filipinos who have not registered yet to come forward and visit its premises in Mahooz as personal appearance is required.
It is important for Filipinos residing and working in the Kingdom to take part in the electoral process, but it is even more important to vote wisely the people who will guide and lead the nation for the next years, starting at noon on June 30, 2022.
The next Philippine general elections – set to take place on May 9, 2022 – will select the successor of current President Rodrigo Duterte.
Overseas voters in Bahrain will cast their votes at the embassy for one month, from April 10 to May 9 next year.
Qualified Filipino voters residing and working abroad will choose the next president, vice-president, 12 senators and a party-list representative.
Overseas registration is ongoing at the embassy.
To register, qualified Overseas Filipino Worker (OFW) voters should visit the embassy.
Details or biometrics will be captured and those who want to register must bring along a photocopy of valid passport. For seafarers, seaman's book is required aside from a copy of the Philippine passport.
Those interested in the overseas voting registration should contact the embassy for details on how to proceed. More details can also be found on the embassy's official website: https://manamape.dfa.gov.ph/