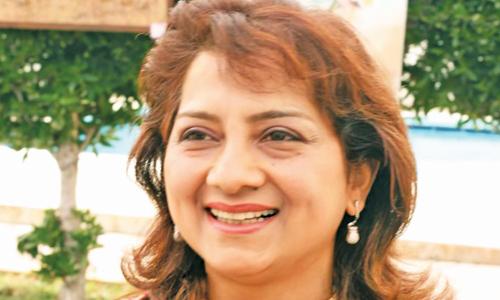 An artist's search for global beauty in art
To Shahnaz Fayaz, art is volatile and evolving. So she tries to include every mode of colours in her art. She considers that beauty surrounds in every way, there is always something to learn from nature itself and also from other artists.
A resident of Bahrain for nearly 35 years, Shahnaz Fayaz, has been working as a rehabilitation specialist for the elderly and disabled. Graduated in arts, she has specialised in fine arts, textile designing and weaving. Her expertise in painting includes oil painting, acrylics and watercolour pastels. She uses Swarovski and gold leaf in her paintings.
Inspired by her father, Shahnaz describes her father as a unique man, who egged on her to think out of the box. She believes in perfection and satisfaction and even takes time to emotionally detach from a painting she has completed.
"I believe if you are passionate about art, you will find the time. I feel there is art everywhere- whether arranging curios around the house or plants in a pot. This is what I teach my students," says Shahnaz, who have also trained students majoring in engineering and computers etc.
"I have participated in art events such as the City Centre workshop held by renowned Bahraini artist Abbas Al Mosawi."
Shahnaz's spouse Fayaz is her motivation, and always encourages and promotes her.
"My humble feeling is that if anyone has love, passion and patience for art then they are for a perfect start. I hope to convey peace and happiness through my paintings," she remarks.
About her paintings and style, she comments: "Since I paint figures, landscapes, still life, flowers, silk painting, calligraphy in different medium such as oils, acrylics, pastels, watercolours and inks, I reckon I haven't developed a fixed style. I also do weaving and batiks. I like to give the viewer something different all the time."
"I like the paintings of Persian artist Mahmoud Farshchian, known for his ability to tell a story in his feminine and graceful paintings and the bold and colourfully strokes of Leonid Afremov," she reveals.
Shahnaz is preparing herself for a solo exhibition in the New Year.
The multi- talented artist feels that unlike earlier, the curriculum in some schools do not give adequate importance to art, craft and needlework.
She also rues that some parents don't encourage their children to learn art throughout the year, as they believe that art does not yield hefty payments like any other profession.
Reported by :
Santhosh Rajendran/DTNN santhosh@dt.bh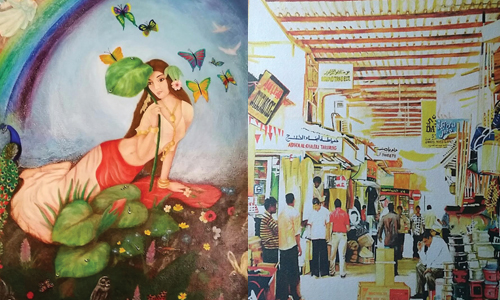 creative works of artist Shahnaz Fayaz, who has been a resident of Bahrain for nearly 35 years