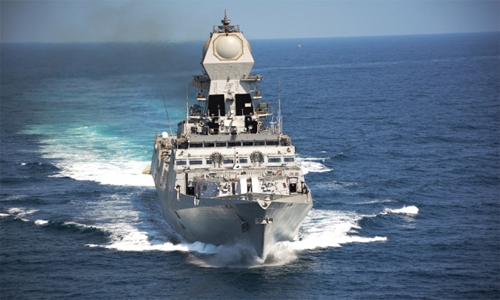 TDT | Manama
The Daily Tribune – www.newsofbahrain.com
Indian Naval Ship (INS) Kochi is making a port of call today at Mina Salman Port, commemorating 50 years of India-Bahrain relations and celebrating the 75th Independence day of India.
It is also the second visit of INS Kochi, the flagship of Rear Admiral Ajay Kochhar, Flag Officer Commanding Western Fleet, to the Kingdom. Manned by a crew of 65 officers and 300 sailors, the ship lives by her credo 'Jai Shatrum Mahabaho', which translates as 'Armed to Conquer'.
The ship is under the command of Capt Sachin Sequeira, a Gunnery and Missiles specialist. The ship, currently operating in the Arabian Gulf and the Gulf of Oman, is on a mission to ensure 'safe seas' and support the safe transit of Indian flagged merchant ships through the Gulf region. She has made port calls at Abu Dhabi, UAE and Al Jubail, Saudi Arabia.INS Kochi. The second ship of indigenously built Kolkata class guided Missile Destroyers, INS Kochi is a versatile platform capable of blue water maritime operations across the spectrum of warfare. Her state-of-the-art weapon sensor fit, coupled with advanced network-centric capabilities, makes her a potent Command Platform for fleet operations. Armed with advanced Surface to Surface BrahMos supersonic cruise missiles, she can undertake strikes at extended ranges. Her Long Range Surface to Air Missiles along with MFSTAR active phased array radar, represents a 'leap' in the Indian Navy's Anti Air Warfare capability.