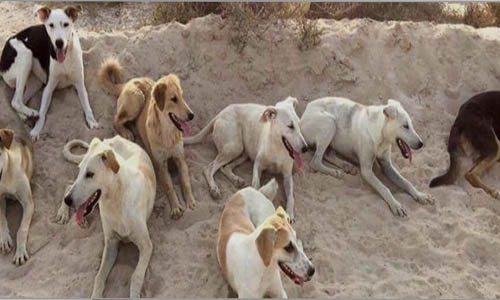 922 reports of stray dogs in Bahrain in four months
TDT | Manama
The Daily Tribune – www.newsofbahrain.com
The Ministry of Works, Municipalities Affairs and Urban Planning Livestock Agency has received 922 reports regarding stray dogs from January to April. Undersecretary Dr Khaled Ahmed Hassan said that the Ministry had received 251 reports from various governorates of the Kingdom in April alone.
He explained that the total number of reports in the northern governorate, which reached 75, is the highest among the governorates in April.
The total number of reports in Muharraq governorate reached 69, and 40 reports in the southern governorate. For the capital's secretariat, the number of reports in April reached 67.
Dr Hassan said that out of 251 reported, there were 163 stray dogs that were caught in April by the Black Gold Company, which was recently contracted to work round the clock for seven days a week to hunt them in residential neighbourhoods. There were 33 stray dogs in the Capital Municipality that were caught, 81 in Muharraq Governorate, 24 in the Southern Governorate, and 25 in the Northern Governorate.
From December 2017 to April 2021, 3,381 stray dogs were caught by the Livestock Agency authorities, 1,058 in the Capital Municipality, 725 in the Muharraq Governorate, 765 in the Southern Governorate, and 833 in the Northern Governorate.
The Undersecretary stressed that the Ministry is continuing its work to solve the stray dogs problem in residential neighbourhoods by contracting with a private veterinary clinic to implement sterilisation and surgical castration of dogs caught from various residential areas to limit their reproduction.
He explained that the reporting process has been developed so that it has become electronic round the clock to keep pace with official efforts in the digital transformation of services provided by government agencies.
Dr Hassan emphasised that the Livestock Agency had prepared a plan for a project to address the stray animals problem, which focused on the need for civil society participation in cooperation with relevant NGOs.