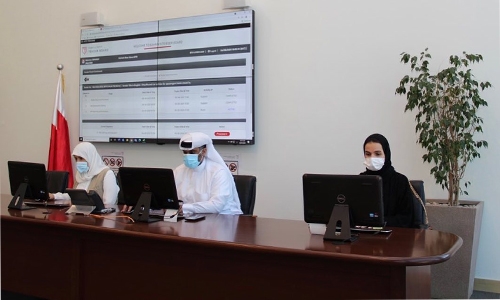 New academic blocks, patrol boat for Bapco, aviation fuel for Gulf Air in Tel Aviv and more
TDT | Manama
The Daily Tribune – www.newsofbahrain.com
Plans are on the anvil to construct new academic blocks for girls schools at Budaiya and East Riffa. The Ministry of Works, Municipalities Affairs and Urban Planning said the additional academic blocks are for Girls Primary and Intermediate school at Budaiya and Girls Primary school at East Riffa. For Budaiya, the ministry intends to demolish the existing admin block and construct a new bock to shift 300 students from the exiting ten portable cabin classrooms to the new building.
The new block will have ten classrooms, a room for special needs students, an audiovisual room, an admin room for 25 staff and other facilities. Budaiya school has a total strength of 952, which includes 825 students and 125 staff.
Works Ministry tender for the project calls for finishing the works in 18 months. Those having a valid Pre-qualification License registered with the Ministry of Works are eligible to bid for the tender, which required an initial bond for BD5,000. The tender closes on Sunday.
New 19 classrooms
For East Riffa school, the ministry said the new block should have 19 classrooms, various laboratories, teachers rooms and other services. A tender issued for the project calls for finishing the works in 18 months.
Bidders should provide an initial bond of BD5,000. The tender closes on 23rd June 2021.
Advertising spots in Muharraq
Muharraq Municipality said it is renting advertising spots on 49 lighting poles on Khalifa Al Kabeer Street, Al Hidd Street and Diyar Al Muharraq Street and 46 lighting poles on Airport Road. The contracts are for a year, where investors should pay the cost of advertising and releasing them to institutions and companies.
Tenders have a closing date on 24th and 25th May, respectively.
Bapco needs a patrol boat
A tender by Bahrain Petroleum Company said it is looking to buy a security patrol boat with a trailer for its Sitra wharf.
Contractors with a minimum of 10 years of experience are eligible to participate in the tender published on Thursday. Interested parties have until 2nd June 2021 to make a decision. The tender calls for an initial bond of BD500 to participate.
Opens 96 bids
The Tender Board, an independent regulatory body, also announced opening 96 bids received for 22 tenders by nine administrative bodies. Works Ministry had two tenders opened on the day.
The first was for doing comprehensive maintenance of the Arad Primary Schools for Boys and Arad Elementary Schools for Girls and received nine bids.
The second for pre and post quantity surveying consultancy services for National Assembly found two bidders. HAJ Quantity Surveyors' BHD 112,325.000 was the lowest bid.
The Ministry of Education said it is looking to hire a contractor for holding Academic qualifications and practical experience auditing services for which received two bids. The tender board said Quadrabay verification services was the lowest bidder. They quoted BHD 181.650 for the job.
SMS service
The Information and eGovernment Authority tender for providing Bulk & Transactional SMS Services received three bids each from Zain, Bahrain Telecommunications Company and Etisalcom Bahrain Company. Zain made the lowest quote.
The ministry also had opened another tender for developing e-Service and Development Resource for which received three bids. Vam Systems FZC Foreign Branch emerged as the lowest bidder.
Aviation fuel at Tel Aviv
In the aviation sector, the board opened five tenders for Gulf Air. The first for the supply of aviation fuel at Tel Aviv Airport (TLV) found a single bidder. The second for the management of the Unit Loader (ULD) also received a single bid, while the third for hiring a general sales agent in France (online) and Belgium / Luxembourg (offline) received three quotes.
The fourth tender for fare filling through ATPCO Airline Tariff publishing company attracted five bids. The fifth for purchasing latex gloves attracted 14 bids ranging between BHD 47,522.365 and BHD 111,709.605. Syscon Trading & Mechanical Services made the lowest quote. A tender by Bahrain Airport Company for the support and maintenance of Perimeter Intrusion Detection System attracted two bids. White Hawk Security Co was the lowest bidder.