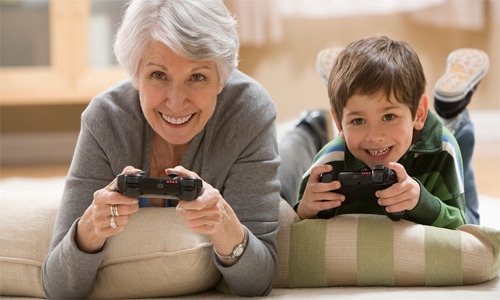 Bahrain addicted to video games says survey
TDT | Manama
The Daily Tribune – www.newsofbahrain.com
In today's modern and technology-driven society, computer or video games are one of the most popular entertainments and pastime among children, teenagers and adults.
Video games are one of the most popular features of social network sites, and they can be played almost continuously on personal computers, smartphones, smart TV, or handheld game devices.
The question is, are computer games good or bad? Well, it can be both.
In fact, complex, multifaceted video games are frowned upon by parents as time-wasters, and worse, some education experts think that these games corrupt the brain.
In particular, playing violent computer games are easily blamed by some experts as the reason why some young people become violent or commit extreme anti-social behaviour.
To a greater extent, video game addiction can lead to several issues that include negative effects on the mind, body relationships, job performance, and more.
Video game addiction, also known as gaming disorder or internet gaming disorder, is generally defined as the problematic, compulsive use of video games that results in significant impairment to an individual's ability to function in various life domains over a prolonged period of time.
Many scientists and psychologists, however, find that computer games can actually have many benefits – the main one is making kids smart. Video games may actually teach youngsters high-level thinking skills that they will need in the future.
Meaning, when a child plays video games, it gives his brain a real workout. In many video games, the skills required to win involve abstract and high-level thinking. These skills are not even taught at school.
Many people, including parents, believe that video games expand the imagination, give children the opportunity to work collaboratively, and sharpen cognitive skills.
Yet when young people spend most of their time playing video games at the expense of school- work, physical exercise, family events, or social activities, the benefits of gaming seem less certain.
In other words, the good and bad effects of video games – their benefits and disadvantages – remain debatable.
The Bahrain Center for Strategic, International and Energy Studies, for instance, has conducted a survey on the effects of video games on children and adolescents between the ages of 10 and 18.
The centre has recognised that it is now a social phenomenon that calls for observing and monitoring, especially with rising concerns regarding the effects on children, adolescents and youth in general, and parents' continuous complaints that a large sector of youngsters have an excessive tendency to spend long periods playing video games.
The study samples included 3,623 adolescents, 54% of the total were female and 46% were male.
The results showed that the intensity of attachment with electronic games increases by 29% for people who play these games continuously, without interruption or taking a break only during one session, while 92% of them play computer games as a plain recreational hobby.
The study also revealed that children's and adolescents' addiction to computer games causes mental, physical and social problems for them.
In addition, 49% of Bahrainis play violent computer games, 55% of them are male, and 44% female.
Two years ago, the World Health Organization (WHO) has classified video gaming as a medical disorder amid increasing evidence of young people suffering from psychological distress and family breakdown through their addiction.
WHO described it as a pattern of persistent or recurrent gaming behaviour so severe that it takes "precedence over other life interests".
Children and teenagers aren't the only ones who can be vulnerable to video game addiction. Adults may also play video games for hours instead of engaging in work activities, pursuing hobbies, or devoting time to their partners or children.
When adults are no longer able to control the amount of time they spend on video games, or when their jobs or relationships begin to suffer as a result of video gaming, they may have crossed the line from recreation to addiction.