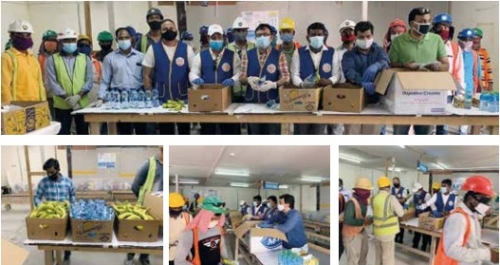 ICRF quenched the thirst of 2,700 people this summer
TDT | Manama
ICRF Thirst-Quenchers has reached out to more than 2,700 workers during this summer season to quench their thirst and help them protect against the pandemic. Every Saturday for the last 12 weeks, ICRF volunteers distributed water, fruit, biscuits, face masks and anti-bacterial soaps, as well as flyers explaining the measures to stay safe during COVID-19 to workers.
Yesterday, the programme distributed water bottles and bananas to around 550 workers at Diyar Al Muharaq project. Joining hands with ICRF in this endeavour for the past two years is Dawoodi Bohra Community as a part of their Project Rise.
The programmes aimed at teaching workers on the importance of drinking water, and remaining healthy, while working under soaring summer temperatures. This year, the programme also provided 'Biriyani' on Eid Al Adha and lunch boxes on Indian Independence day. Free prepaid sim cards, sponsored by STC, were also distributed to around 500 workers this year.
ICRF Chairman Aruldas Thomas, ICRF General Secretary John Philip, Thirst Quenchers Convenor Sudheer Thirunilath and ICRF Volunteers Pavithran Neeleswaram, Sunil Kumar, Muralikrishnan, Nasser Manjeri, Clifford Correa, Sayed Haneef and Zulfiqar Ali along with Bohra Community members took part