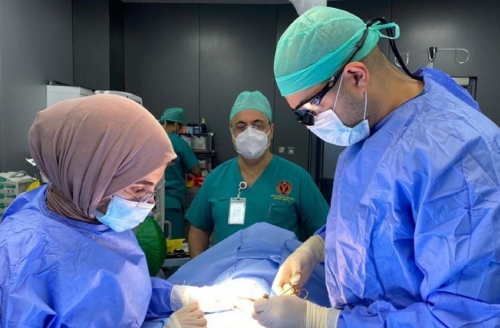 The military hospital saves the lives of two children who swallow a number of small magnets
The medical team headed by Captain Abdul Rahman Ibrahim Al-Shafei, a specialist in general surgery and pediatric urology at the Military Hospital and a number of general surgery and anesthesia doctors succeeded in saving the lives of two children after extracting magnetic pieces ranging in size between five millimeters and three centimeters that they swallowed while playing, and this led to holes in the wall The stomach and intestines resulted in severe abdominal pain, blockage, and twisting of the intestine, high temperature, and nausea, which posed a serious threat to their lives were it not for direct medical intervention to extract them.
The first patient, who was 10 months old, came to the emergency department for another reason, except that during the X-ray procedure, two pieces of magnets connected to his guts were discovered, which led to twisting and perforating the intestine, as the process lasted about two hours, which required keeping the child in the hospital under care and monitoring for ten days He was discharged from hospital in stable condition.
As for the second patient, who is three years old, he swallowed a number of magnetic pieces, which turned out to be 51 after the completion of the surgery to extract them, and the operation lasted about three and a half hours, as the captain, Doctor Abdul Rahman Al-Shafei, repaired multiple holes in the stomach, twelve and intestines, and the child left the hospital after Seven days after his condition stabilized and recovered.
The captain introduced a doctor,
Abd al-Rahman al-Shafi'i
Advice for parents to be careful and take precautions while buying toys that contain magnets and small batteries, and also advise to avoid buying pills and small magnetic balls that are sold in the market, including refrigerator magnets, which often attract children because of their shape and color.
Magnetic materials are considered more dangerous when two or more pieces of them are swallowed, because the attraction process between the magnets leads to holes and cracks in the wall of the intestine and stomach, warning of the danger of letting young children play these games without the supervision of parents or an adult.
Dr. Abdul Rahman expressed his gratitude and thanks to Major General Professor Khalid bin Ali Al Khalifa, Commander of the Royal Medical Services, for his continuous support, guidance, and effort in improving surgical care for children in the Kingdom of Bahrain.