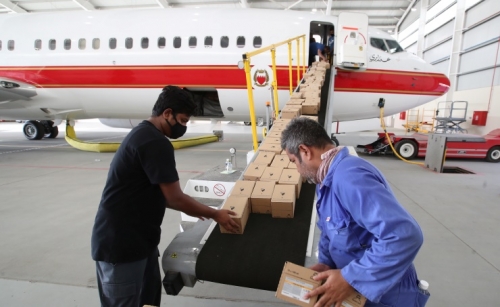 On a mission: Bahrain begins Beirut relief efforts
TDT | Manama
A team of Bahraini experts went to Beirut yesterday with ample supplies of emergency medicines, first aid materials and respiratory ventilators, to expedite Kingdom's relief operations and support victims of the devastating blast.
Dr Mustafa Al-Sayyed, the Royal Humanitarian Foundation (RHF) Secretary-General, who is with the relief team, told BNA before departure yesterday morning that they are looking forward to delivering the aid to pain-stricken people as soon as possible.
Later yesterday, Dr AlSayyed said, the team of Bahraini youths visited the blasthit areas, to assess their needs, and deliver the relief materials. Lebanon's Health Minister Hamad Hassan thanked Bahrain for its noble stance and praised the directives of HM the King to provide aid to Lebanon to help it face the painful disaster.
Upon directives from His Majesty King Hamad bin Isa Al Khalifa, the Honorary President of the Royal Humanitarian Foundation (RHF) and under the patronage of HH Shaikh Nasser bin Hamad Al Khalifa, the Representative of HM the King for Charity Works and Youth Affairs, Dr Mustafa Al Sayed delivered the shipment of urgent humanitarian aid to Lebanon.
Shaikh Nasser praised HM the King's patronage of the RHF and his generous humanitarian gesture towards the people in Lebanon. "We are honoured to extend to His Majesty King Hamad our sincere thanks, appreciation and gratitude for his continuous humanitarian initiatives in helping the needy and the afflicted," Dr Al Sayed said.
The Bahrain Red Crescent Society earlier said it has donated $50,000 to the Lebanese Red Cross through International Red Cross and Red crescent organisation. The Society also announced yesterday the launch of its "Bahrain assists Beirut" campaign aimed at collecting donations and providing relief, medical, health and psychological support to the Lebanese people.
The society appealed to citizens, residents and institutions in the Kingdom to make donations to the Society to help the needy in Lebanon. The BRCS expressed optimism that the campaign will generate great interaction in Bahrain.
Gulf states were among the first to respond to the crisis with emergency relief materials to ease pressure on Lebanon's medical system, already strained by the coronavirus pandemic. Lebanon's Prime Minister Hassan Diab has called on "friendly countries" to support a nation already reeling from its worst economic crisis in decades as well as the impact of the coronavirus. The Lebanese Red Cross has said that more than 5,000 people were being treated for injuries after the explosion.