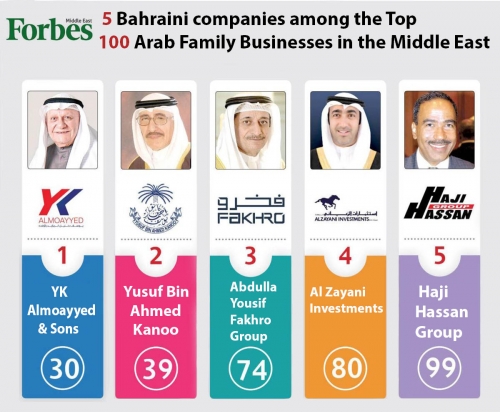 The Kingdom's business elite
TDT | Manama
Five Bahraini companies have been named on a prestigious Forbes list of the Top 100 Arab Family Businesses in the Middle East. They include YK Almoayyed and Sons, Yusuf Bin Ahmed (YBA) Kanoo, Abdulla Yousif Fakhro Group, Al Zayani Investments, and Haji Hassan Group. YK Almoayyed and Sons was the list's top-ranked Bahraini business (30th in the top 100), while YBA Kanoo was second (39th).
Abdulla Yousif Fakhro Group was ranked third in the Kingdom (74th), Al Zayani Investments fourth (80th), and Haji Hassan Group fifth (99th). "We are of course very proud to be one of the region's top family businesses, and the first ranked in Bahrain," YK Almoayyed chairman Farouk Yousuf Almoayyed told TDT yesterday.
"We are keen to continue the tradition of supporting the Bahraini economy, especially during these difficult economic times." Almoayyed said that one of the keys to his company's success over the years is its open-door policy to both customers and staff.
"When I came into the business as a young man, I always thought that I should put myself in the customer's place whenever I make a decision, even if I lose sometimes; and that has kept our customers happy," he explained. "We always have an open-door policy—we deal with all kinds of feedback, either from our staff or from a customer—and try to solve the problem effectively.
"We've had a lot of repeat customers over time. I think that somebody who buys from you once and they get bad treatment, they will not come again; but if satisfied, they will come back 10 times." Addressing the current economic challenges brought about by the coronavirus (COVID-19), Almoayyed said that his company has been able to manage the impact of the pandemic, and has even been able to keep its Bahraini and expatriate staff fully intact throughout the crisis.
"With the help of the government's economic stimulus package initiatives, we have been able to overcome the most severe times over the last three months," Almoayyed explained. "We have not laid off any of our staff, both Bahrainis and expatriates, and we hope that the worst is over.
"It is a difficult time but we have managed to get through it, and we have also been benevolent in relieving a lot of the pressure with payments from some of our clients." Almoayyed said that despite the current economic climate, a positive outlook must be maintained by businesses, especially young entrepreneurs who may be looking to launch their ventures in the near future.
"This is the worst time unfortunately for young entrepreneurs to start, but we must take it day by day and be optimistic rather than pessimistic," he encouraged. "We must deal with something when it happens, rather than keep worrying about it."
Meanwhile, YBA Kanoo director Nabeel Kanoo expressed his delight in his company being included in the Forbes list, especially as it is marking 130 years in operation. "Being one of the Top 100 Family Businesses in the Middle East, and the second ranking in Bahrain, is a true testament for the Yusuf bin Ahmed Kanoo family, and adds more pride to our 130th anniversary celebrations," Kanoo told TDT.
"The success that the brand has achieved in its long years in business is attributed to the hard work of six generations of Kanoo family members who dedicated their lives to growing and expanding the group. "I would like to thank the leaderships of the GCC countries for their continuous support to our business which has been pivotal in our journey in trade. I would also like to thank both our loyal clients who continue to trust our brand and our hardworking employees who without them the Group wouldn't have achieved this prestigious status." Approximately 200 Arab family-owned businesses in the region were studied by Forbes Middle East in compiling the top 100 list. Forbes considered group investments in regional and global stock exchanges and real estate assets; business diversification and the number of sectors in which they have significant operations; types of business activity and to what extent they have been affected by the current crisis; the companies' number of employees; the number of countries they are present in and geographical diversification; and their dates of establishment. Atop the ranking is Mansour Group from Egypt, while Al Futtaim Group from the UAE was ranked second and Olayan Group from Saudi Arabia third. Saudi had the highest number of businesses in the top 100 with 36. The full list can be viewed on forbesmiddleeast.com.