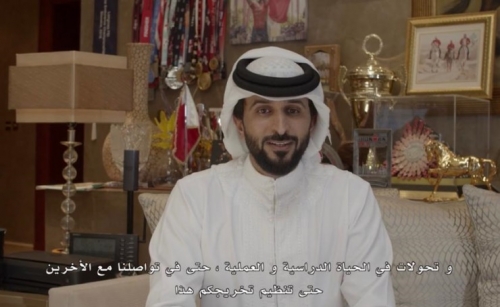 HH Shaikh Nasser delivers inspirational speech to graduating class
TDT | Manama
His Majesty the King's Humanitarian Work and Youth Affairs representative, National Security Advisor and Supreme Council for Youth and Sports (SCYS) chairman His Highness Shaikh Nasser bin Hamad Al Khalifa delivered yesterday an inspirational message to Bahrain School graduates, urging them to excel every day and to work hard to achieve their goals in order to serve humanity, the nation and themselves.
HH Shaikh Nasser's virtual speech was one of several activities during the remote graduation ceremony. Addressing the young learners, HH Shaikh Nasser said: "Graduates of the year 2020, you are truly distinguished. "It is a great honour to share with you today the celebration of your accomplishments after years full of hard work and study.
These years are only the end of a journey full of challenges and accomplishments, and the beginning of a new phase, an important transitional step for the future academic stage. "With every finish line I pass, I start working for the next race—a race against myself first—and my accomplishments on that day help me determine my next goal.
"Without ambition there can be no joy. With ambition, perseverance and hard work, we will attain our set goals. We have to challenge ourselves, excel every day, and work hard to reach our goals to serve humanity, our nation and ourselves."
HH Nasser added: "Today, we are experiencing a more enjoyable period of time and transformations in the academic and work life, even in communicating with others until this graduation ceremony is organised. "This remote graduation is an alternative at the present time to the conventional one to celebrate and record our achievements.
As individuals and human beings, we have been created in this life to be flexible and to be able to continuously adapt to what is around us, in order to achieve the goals we want."
HH Shaikh Nasser concluded saying: "I wish all of you success in your endeavour that you will choose, and more importantly, you enjoy the next stage of your life and achieve your desired goals."