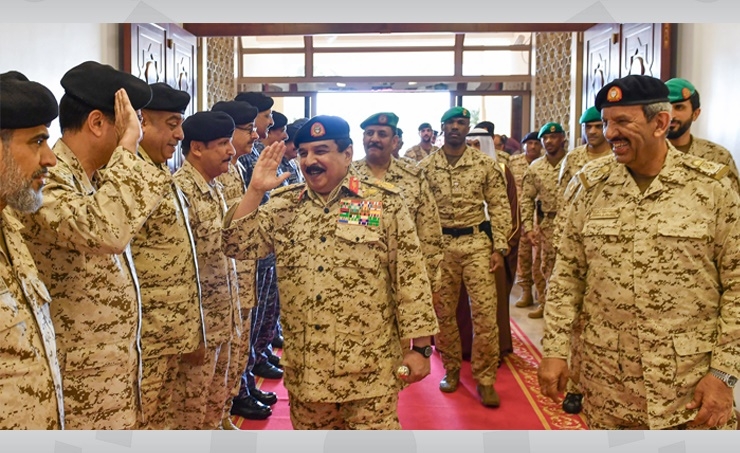 Manama
His Majesty King Hamad bin Isa Al Khalifa, the Supreme Commander, yesterday paid a visit to the General Command of the Bahrain Defence Force (BDF).
Upon arrival, HM the King was welcomed by the BDF Commander-in-Chief, Field Marshal Shaikh Khalifa bin Ahmed Al Khalifa, National Security Advisor and Royal Guard Commander, Major-General HH Shaikh Nasser bin Hamad Al Khalifa, Chief of Staff, Dhiab bin Saqr Al Nuaimi, and a number of senior BDF officers.
HM King Hamad was accompanied by the Royal Court Minister, Shaikh Khalid bin Ahmed Al Khalifa, and Royal Guard Special Force Commander, Lieutenant-Colonel, HH Shaikh Khalid bin Hamad Al Khalifa.
HM the King was informed about the tremendous health efforts exerted by the BDF to confront the Coronavirus (COVID-19), as part of the nationwide campaign to combat the virus that is targeting the entire world.
HM King Hamad expressed thanks and appreciation to the BDF for its noble contributions and the readiness of its medical services to provide medical facilities that are equipped with the latest health supplies for examination, treatment and preventive measures through qualified and specialised medical personnel to prevent the spread of COVID-19.
HM the King affirmed that the health situation in the Kingdom is reassuring, noting that many cases, including citizens and residents, have already been discharged and gone back home safety after completing the quarantine period and receiving the His Majesty being received at BDF General Command. necessary health care.