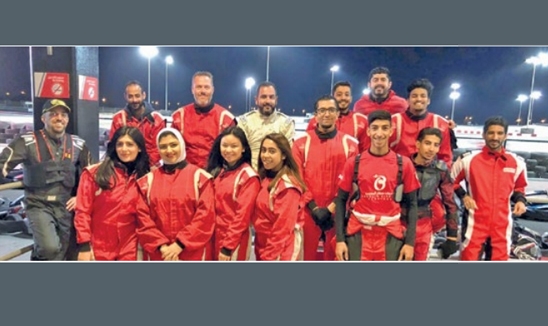 BAS karters aiming high in season finale
TDT | Manama
Bahrain Airport Services (BAS) Motor Sport Team will be looking to end the 2019/2020 Bahrain Karting Enduro Championship (BKEC) on a high note this weekend at Bahrain International Karting Circuit (BIKC) in Sakhir. The endurance karting season's fourth and final round is a 24-hour race, and the team of fearless and mostly BAS staffers are all geared up to face the mammoth challenge head on.
BAS CEO Salman Al Mahmeed commented, "This whole achievement by our BAS staff is fantastic and I am overwhelmed on how well they have done. I hope they can continue with their outstanding performance in the last race." BAS Motor Sport Team Manager Tony Smith added, "From start to finish the BAS Motor Sport Team members continue to develop and excel in the sport and have achieved so much over this season. "I am extremely proud of them all and look for their dedication to drive them to the podium on Saturday and finish on a real high and make Bahrain Airport Services shine across the Kingdom." BAS have entered four squads in the meeting, which gets underway Friday at 12.30pm and concludes at the same time the next day.
The BAS A team will once again be spearheaded by talented young racer Lewis Smith, who is also the BAS Motor Sport Team Ambassador. He will be sharing duties in their kart with Gavin Halls, Ahmed Abduljalil and Shaikh Salman bin Rashid Al Khalifa. The B and C teams comprise of Mohamed Faqihi, Mohamed Jaafar, Ahmed Kooheji, Mahmood Saati, Mohamed Fadel Abdulla, Ammar Ali Al Ghawas, Ziyad Khalifa, Philip Morais, Mohamed Rabea, Hussain Habib, Don Vinura and Mohammed Alansari. BAS is also fielding an all-ladies squad for the fourth straight round.
The BAS F squad is composed of Jeiel Macaraan, Alya Adel, Fatima Mohamed Zainudeen, Sujusha Bakaal, Marwa Mandeel and Christina Anieliesa. Heading into the season finale, the BAS B and BAS C teams are still with a shot at claiming the season's title in the BKEC's Corporate class. They are ranked second and third on their category's standings with 98 and 85 points, respectively. BAS F is currently ranked behind the top three in fourth with 75 points. The BAS A team, meanwhile, is contending for a podium place to end the season in the BKEC's Pro class.
It is currently fourth on the points table with 81 points, just nine behind third-placers Bapco Sadeem who are on 90 points. BAS Motor Sport Teams have been training hard over the past few weeks for the upcoming event, which is set to pose a unique challenge and test each participant's poise and stamina, apart from their karting skills. The BAS karters will be taking to the track against their competitors in identical 390cc Honda-powered Sodikart RT8s. All the action will will be held along BIKC's 1.414-kilometre Commission Internationale de Karting (CIK) track.