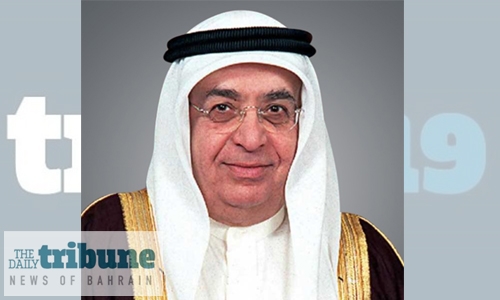 The Cabinet chaired by Deputy Prime Minister, His Highness Shaikh Mohammed bin Mubarak Al Khalifa, commended the 'positive' efforts exerted to implement initiatives and launch mega projects and economic programmes that have succeeded in reducing the deficit, maintaining positive economic growth and creating new job opportunities.
While reviewing the work and achievements of the Ministerial Committee for Financial and Economic Affairs and Fiscal Balance in 2019, Deputy Premier, HH Shaikh Mohammed bin Mubarak praised the tremendous efforts exerted by the panel to follow up on the implementation of the recommendations and resolutions referred to it by the Cabinet.
In this context, Deputy Premier and Chairman of the Ministerial Committee for Financial and Economic Affairs and Fiscal Balance, Shaikh Khalid bin Abdulla Al Khalifa, highlighted topics discussed by the panel during its meetings, as well as the priorities it had set for 2019-2020.
The priorities, based on the initiatives of the Government Action Plan and Fiscal Balance Programme, cover seven themes under which 27 programmes are implemented, the Deputy Premier said, adding that the Fiscal Balance Programme, the General State Budget, infrastructure, economic reports and enhancing Bahrain's competitiveness, in addition to the relevant local and international economic issues topped the agenda of the ministerial committee's meetings during the same period.
Among other things, the Cabinet reviewed the projects and programmes being implemented by the Electricity and Water Authority (EWA) to achieve the priorities included in the Government Action Plan and initiatives to consolidate financial sustainability and economic development, secure a supportive environment for sustainable development, enhance the efficiency of resources and energy use, in addition to implementing the Fiscal Balance Programme and achieving partnership with the private sector.
According to the Minister of Electricity and Water Affairs, EWA's programmes and projects include providing strategic housing projects with electricity and water services, developing the electrical transmission networks of 220, 400 and 66 kV, establishing a control and monitoring centre for electricity and water networks, developing the water transmission networks, developing the water transmission network associated with the second stage of the Al Dur power and water production plant, collecting the dues of EWA from subscribers in the private sector and SMEs, checking energy in buildings and facilities, improving lighting efficiency and replacing traditional lighting lamps with energy-saving ones and the development of electronic electricity and water services.