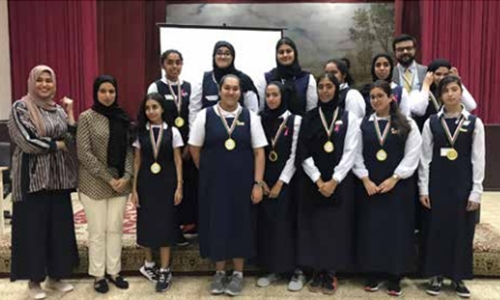 Homework app named best at INJAZ Innovation Camp
An app to access students' past projects, homework assignments and school supplies, which was developed conceptually by a team led by Ahmed M. Zainal, won first place during INJAZ Innovation Camp. Over 100 final year high school students (Tawjeehi) participated in the event, in which each team were required to create an app to address the issues faced by students.
The first place winning app, conceptualised to be run by students, enables students to access their past projects, homework assignments, as well as the inventory of school supplies for home delivery. The competition was part of INJAZ Innovation Camp (ICamp) held at the Al-Istiqlal Secondary Girls School in Muharraq.
The event, also INJAZ Bahrain's largest one-day workshop, aimed at motivating secondary and university students to find innovative solutions to a business challenge through critical thinking, teamwork, communication and leadership skills. The volunteers were appreciated by Ebrahim K. Kanoo Managing Director, Talal F. Kanoo.
"Ebrahim K. Kanoo is committed to its partnership with Injaz Bahrain which plays a vital role in building the skillset of Bahrain's youth through its various educational programmes," stated Kanoo. A team of eight employees from different business divisions of Ebrahim K. Kanoo volunteered for the Camp. EKK's marketing department led teams won the first and second places.