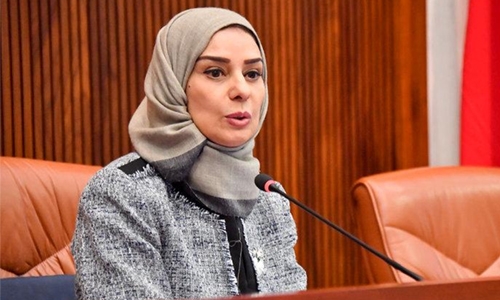 'Furas' programme, 'a great step' for empowering Bahrain's youth
The 'Furas' (Opportunities) programme to provide young Bahrainis with vocational training announced by the Personal Representative of HM the King for Charity Work and Youth Affairs and Chairman of the Supreme Council for Youth and Sports, His Highness Shaikh Nasser bin Hamad Al Khalifa, is a new and innovative breakthrough for investing in Bahraini youth. The programme is also an opportunity for young Bahrainis to develop their skills and abilities, highlight their capabilities, and contribute to providing the labor market with qualified and competent people, Speaker of the Council of Representatives Fawzia Zainal said.
"Youth represent the wealth of the country and its assets to achieve the vision of the Kingdom of Bahrain 2030 within the expanded Bahrain Team. They are crucial to achieve the objectives of the comprehensive national development progress under the leadership of His Majesty King Hamad bin Isa Al Khalifa," she said. Lauding the efforts exerted by HH Shaikh Nasser to develop the youth sector, the Speaker said the parliament fully supported the initiatives to enhance the creativity, aptitudes and capabilities to empower young people to enter the labor market, reinforce national achievements and accomplish further progress and prosperity for the Kingdom.
Designed by the Youth and Sports Affairs Ministry, the programme aims to provide youngsters with opportunities to obtain grants and train in companies. HH Shaikh Nasser had underlined His Majesty King Hamad's directives to provide training opportunities for Bahraini youth and promote them as the first priority in the labour market through competence building and partnership with companies.
The 'Opportunities' scheme is part of the youth and sports development programme 'Estijabah'. The youth of the Kingdom can log on to the portal estijabah. mys.gov.bh and register to find suitable training opportunities. Companies have also been urged to enter the portal and post training opportunities.