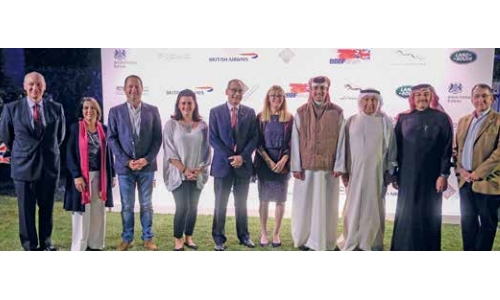 BBBF, British Embassy host "F1 Grand Prix Night 2019"
The Bahrain British Business Forum (BBBF) in association with the British Embassy jointly hosted the annual F1 Grand Prix Night event on Wednesday at the British Embassy Gardens. Shaikh Salman bin Isa Al Khalifa, Chief Executive Officer of Bahrain International Circuit, attended as a guest speaker.
Shaikh Salman briefed the guests about the upcoming Bahrain Formula 1 Bahrain Grand Prix on 29-31 March and the exciting events, concerts and entertainment around it. Simon Martin, British Ambassador to Bahrain, said: "Sophie and I are happy to host our fourth BBBF F1 Grand Prix Night Event in the beautiful Embassy gardens."
"We at the BBBF are very grateful to Simon Martin CMG, his wife Sophie and the British Embassy team, for their unwavering support of the forum and our activities," said BBBF Chairman Khalid Al Zayani OBE. The event, sponsored by Bahrain International Circuit, Euro Motors Jaguar Land Rover, Gulf Brands International and British Airways, was attended by over 160 BBBF members. During the night, two British Airways Business Class return tickets to the UK and 10 tickets to the Bahrain Formula 1 Grand Prix, were raffled between the guests.