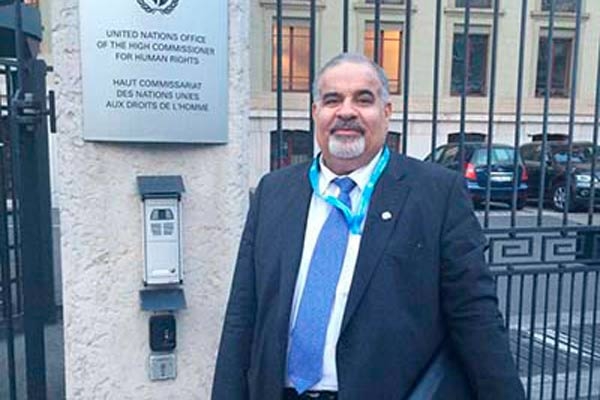 Iran regime played 'a major role in destabilising Syria'
Iran has played a dangerous role in supporting the Syrian regime and destabilising Syria, according to a prominent Bahraini human rights activist. Iran has contributed to destabilising Syria by providing long-term support to bring militias from Lebanon, Iraq, Afghanistan and Pakistan, and to mobilise them in Syria to fight the opposition factions, it was claimed.
According to Gulf European Centre for Human Rights Secretary General Faisal Fulad, this resulted in the killing, disappearance and the arrest of a large number of Syrian citizens and the destruction of property of citizens such as houses, agricultural land and livestock by Iranian militias. "Since the first day of the Syrian crisis in March 2011, Iran has provided various military support to the Syrian regime. "Iran since March 2011 began to send military advisers to Syria, but in 2012 without announcement, Iran directly intervened in Syria by sending Revolutionary Guards, Iraqi and Lebanese Shiite militia groups.
"However, the announcement of participation of Iranian forces and foreign militias was in 2013, which these forces began to commit crimes against humanity in Syria, which is a war crime and violation of international law," Mr Fulad pointed out. "According to Syrian human rights reports, the Iranian militias have made Syrian citizens suffer from starvation, as well as destroying Syrian property in several cities and villages. "Arbitrary arrests and forced abductions have displaced tens of thousands of Syrian citizens because of the role of Iranian militias against innocent Syrians.
"These crimes violate international law and constitute war crimes and crimes against humanity. Hence, it needs international intervention to stop Iran's crimes in Syria." Gulf European Centre for Human Rights recently participated in a conference in Geneva to discuss the ongoing crimes in Syria by the Syrian regime and Iran. The conference was held at the Swiss Press Club in Geneva in conjunction with the 40th Session of the Human Rights Council in Geneva.
Mr Fulad presented a paper on the Iranian regime's financing of terrorism, supporting armed groups and committing of crimes against humanity in Syria and the rest of the Middle East, such as Yemen, Bahrain and Lebanon through Hizbollah, Iraq through several militias.