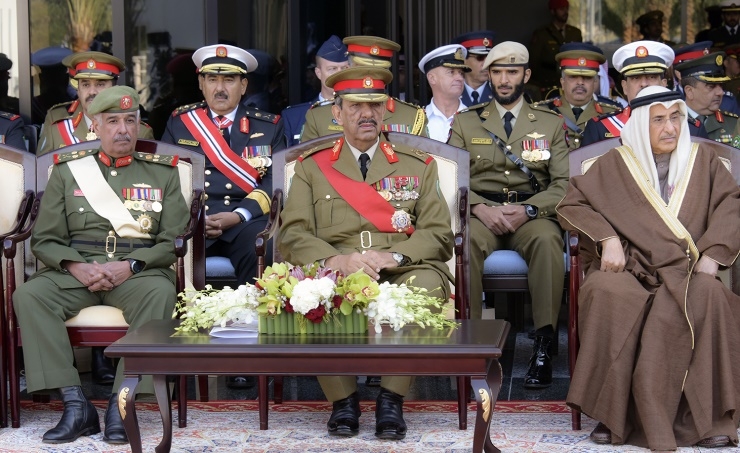 Bahrain Oncology Centre inaugurated
His Majesty King Hamad bin Isa Al Khalifa yesterday deputized Commander-in-Chief of Bahrain Defence Force (BDF) Marshal Shaikh Khalifa bin Ahmed Al Khalifa to inaugurate Bahrain Oncology Centre in conjunction with the kingdom's celebration of the 51st anniversary of BDF.
The opening ceremony, held under the patronage of HM the King, was attended by Deputy Prime Minister Shaikh Khalid bin Abdullah Al Khalifa, President of the Supreme Health Council Lieutenant-General Shaikh Mohammed bin Abdullah Al Khalifa, Interior Minister General Shaikh Rashid bin Abdullah Al Khalifa, Supreme Defence Council Secretary-General Shaikh Daij bin Salman Al Khalifa, Education Minister Dr Majid bin Ali Al Nuaimi, Minister of Works, Municipality Affairs and Urban Planning Essam Khalaf, Health Minister Faeqa Al Saleh, Information Minister Ali Al Romaihi and President of the National Security Agency Lieutenant General Adel bin Khalifa Al Fadhel.
On arrival at the celebration venue, the BDF Commander-in-Chief was welcomed by National Guard Commander General Shaikh Mohammed bin Isa Al Khalifa, Defence Minister Lieutenant-General Abdullah bin Hassan Al Nuaimi, Chief of Staff Lieutenant General Dhiab bin Saqr Al Nuaimi and King Hamad University Hospital Commander Major General Shaikh Salman bin Atiyatallah Al Khalifa.