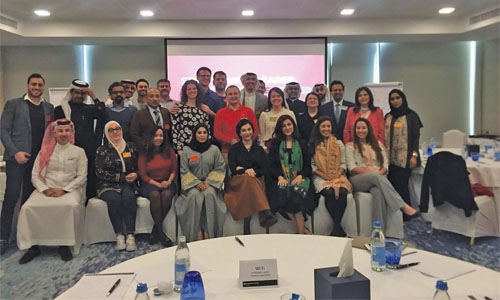 EO hosts motivational speaker Ryan Avery
Manama : The Entrepreneurs' Organization (EO) Bahrain Chapter hosted Ryan Avery, a motivational speaker at their learning event held under the title 'Stop being a leader; Start being the leader' at the Wyndham Grand yesterday.
Avery addressed the entrepreneur community on how to grow their business and helped the audience learn and master the art of communication, the art of strategic storytelling, emphasising on the importance of strategic leadership.
EO Bahrain Chapter president Suhail Al Gosaibi told DT News, "EO is a global organisation with the Bahrain chapter being since 2004. The EO Bahrain chapter has approximately 42 members with the Median Sales totalling up to $2 million. We have a learning event every month, where we try and bring experts to come and address to the chapter to help the entrepreneurs develop themselves and become better and stronger entrepreneurs which will ultimately contribute to the society and to the Kingdom's economy."
"It was a delight hosting Ryan Avery as he is a renowned speaker on relationships, communication and on leadership and he spoke to us on how to be the leader instead of being a leader. We had a great takeaway from his talk and there is a lot that the entrepreneurs can learn and implement from his talk."
"We are looking to be an influential contributor to the economy and help develop the entrepreneur ecosystem in Bahrain," Al Gosaibi added.
"I am currently on the speaker tour for the EO and I am overwhelmed to be a part of EO's Bahrain Chapter where I got to share a few insights with the entrepreneurs on how to being the leader and provide solutions to the audience to help them grow in their businesses," Avery told DT News.
"Bahrain audience is very keen and engaged in learning and developing their business, an important aspect of entrepreneurship. To understand it's always important to learn; so to see the audience here it really shows how interested Bahrain is in growing and being better," he said.