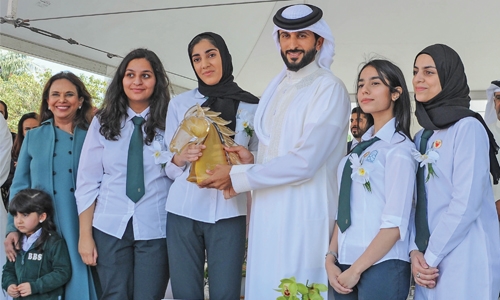 Winners of Zayed Future Energy Prize honoured
Manama: His Majesty the King's Representative for Charity and Youth Affairs, Chairman of the Bahrain Olympic Committee, Shaikh Nasser bin Hamad Al-Khalifa, visited Bahrain Bayan School yesterday to honour the winners of Zayed Future Energy Prize.
The 11 students, which formed the Ecoboosters received a majestic acknowledgement as HH Shaikh Nasser visited the school, praised the students' talents and honoured them in a ceremony.
Aya bint Hisham Al Khalifa, Mariam Nasir, Abdullah Al Majid, Zainab Al Daisi, Jood Al Shirawi, Zain Ali, Haya Mahmoud, Ali Al Mandil, Noura Bani Hammad, Zainab Khalaf and Zain Al Balushi had won the Zayed Future Energy Prize in the Global High School-Asia category in Abu Dhabi.
The competition, which featured projects in the field of sustainable energy and green technology from all over the world, was part of Abu Dhabi Sustainability Week. Ecoboosters won the competition with their Bayan School Ecolab360 project.
HH Shaikh Nasser praised the creative ability and hard work of the students involved as well as the role of teachers. Following the honouring ceremony, HH Shaikh Nasser toured the school. He was briefed by Dr Shaikha May bint Sulaiman Al Otaibi, the Chairperson of the Bahrain Bayan School Board of Directors about the current and future projects undertaken by the school.
"The EcoLab 360 is intended to be an innovative and pioneering "hands-on" sustainability education platform to be built at the primary school cafeteria building of the BBS. EcoLab 360 will be a comprehensive educational platform on sustainable practices of water, energy and waste management," said the school in a statement, describing Ecolab 360.
The aim of ecoboosters is to spread awareness of, educate and implement sustainability solutions and to create an innovative, sustainability education platform at the school and to inspire students.
"EcoLab 360 will focus on 5 R's: Reuse, Reduce, Recycle, Raise Awareness and Renewable Energy and will strive to make global citizens who will lead by example," the team stated.