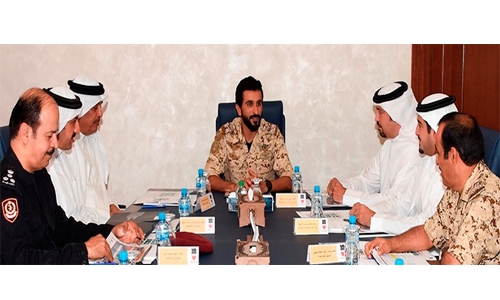 Shaikh Nasser chairs BIDEC 2017 meeting
Manama : The periodic meeting of the Bahrain International Defence Exhibition and Conference 2017 (BIDEC), scheduled in Kingdom from October 16 to 18, was held yesterday.
The meeting was chaired by Royal Guard Commander and Chairman of the Higher Organising Committee of the Bahrain International Defence Exhibition and Conference 2017 (BIDEC), Brigadier General, HH, Shaikh Nasser bin Hamad Al Khalifa.
Shaikh Nasser commended the efforts and facilities provided by all competent authorities, officials and organisers led by the Bahrain Defence Force (BDF), the National Guard and the Ministry of Interior, to ensure the success of the event.
He said that the event is one of the most significant military exhibitions in the Middle East while affirming that holding such international events in the Kingdom conveys a clear message to the world that Bahrain will continue to be an oasis of safety and security.
He reviewed the preparations to host the event in addition to what has been completed, as well as the joint military and diplomatic efforts to reinforce cooperation between Bahrain and the international community to support the BDF goals in attracting investments and boosting tourism.
HH Shaikh Nasser also reviewed preparations for the Middle East Military Alliances and Coalitions Conference (MEMAC 2017) which will be held alongside BIDEC 2017.
Chairman of the Board of Trustees of the Bahrain Centre for Strategic, International and Energy Studies, BIDEC Official Spokesperson and Chairman of MEMAC Organising Committee Dr. Shaikh Abdulla bin Ahmed Al Khalifa expressed pride in the directives of HH Shaikh Nasser as well as his keenness to provide all necessary facilities to ensure the success of the defence gathering.
He said the speakers and attendees were carefully chosen in order to establish an international platform to exchange ideas and views on security and military developments.