Bahrain to step up housing projects
Manama: The Prime Minister HRH Prince Khalifa bin Salman Al Khalifa yesterday urged officials to continue providing speedy solutions to the housing needs of people in the Kingdom.
Commenting on a report by the Housing Minister in this regard, HRH Premier described the Kingdom's housing projects as a national milestone.
The Prime Minister was speaking while chairing the weekly Cabinet session at the Gudaibiya Palace yesterday.
After reviewing the progress of the development projects in the Southern Governorate's Jaw and Askar villages, HRH Premier directed officials to finalise the housing, municipal, education and health projects, stated Secretary General of the Cabinet Dr.Yasser bin Essa Al Nasser.
The Premier then stressed the need to encourage sustainable urban development projects that benefit both the society and the
environment.
Prince Khalifa also urged stronger and more constructive cooperation between the Kingdom and the United Nations Human Settlements Programme (UN-Habitat).
In this context, Minister of Housing Basim Alhamer briefed the Cabinet on the outcomes of the third UN Conference on Housing and Sustainable Urban Development (Habitat III) held recently in Surabaya, Indonesia.
The Minister highlighted Bahrain's effective participation in the third session of the UN Preparatory Committee (PrepCom3), which, he said, reflects the country's interest in sustainable urban development and housing issues.
The Minister praised Bahrain's constructive cooperation with UN-Habitat, citing the Scroll of Honour in Urban Development and Housing bestowed on HRH the Premier, and the launch of the Khalifa bin Salman
Al Khalifa UN Habitat Award.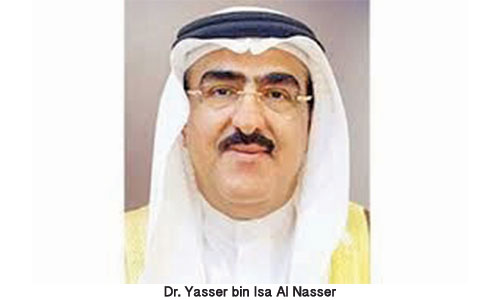 Major decisions
Cabinet hails Arab Summit outcome, says pan-Arab cooperation will help tackle terrorism and external interference
National plan to address the problems related to illegal workers discussed
Adoption of the new international standards on the automatic exchange of information discussed
Alpha-phenylacetoacetonitrile (APAAN) to be listed under narcotic drugs and psychotropic substances
Draft law to allow private sector employees to purchase additional years of service endorsed
Proposals discussed
Setting up a car park in Um Al-Hassam
Status of the players of the Bahrain National Handball Team
Re-directing fuel subsidies
Foreigners in ministries and government departments