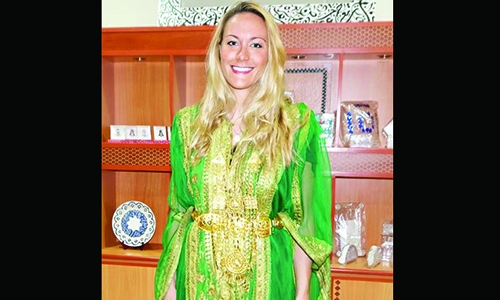 A visit to sovereign States
Manama: Bahrain became the 85th country 25 year old Cassandra De Pecol has visited in her attempt to break a world record.
The American citizen is on track to set a new record for visiting all of the 195 sovereign states around the world in world record time. She said she is using her expedition to promote numerous causes such as sustainable tourism, women empowerment and world peace. "Sustainable tourism and world peace are the main causes i am promoting but i also promote initiatives for planting trees, water samples and empowering women" she told DT News.
Ahead of schedule
To achieve the world record De Pecol needs to complete her expedition in less than 3 years and 3 months. The outlook is positive as Bahrain became 85 country for her to to visit in only 7 months. "I am actually ahead of schedule by alot, i was only planning to be at 30 countries at this point but i am already at the 85th county, so this is going fairly quickly but i am trying to make the most out of each visit. I spent an average of 2 to 5 days in a country." she said.
More respect for women in the Middle East than in western countries
She said one of the pleasant surprises in the Middle East was witnessing the freedom and respect women enjoyed. She said that some of her experiences in the region made her feel that that there is more respect for women in the Middle East when compared to western countries.
"In the Middle East i really expected women to have alot less power. That was what i thought because of being influenced by the media and the news etc. In the news, they portrayed Middle Eastern women as living in a box without any freedom. But actually coming here let me see the freedom the woman experience." she said, adding "I actually think that there is alot more respect over here for women than western countries i have experienced. I always wanted to come to the Middle East, this has been the most exciting part of my trip. It is different, very different from where i am from, people have warned me but i like to prove people wrong." she said.
Eye opener
She said that the expedition forced her out of her comfort zone "I've had to reach out to strangers, friends, and family for help. I've needed to dig down very deep inside myself to muster up the courage to ask people to be involved in my expedition, whether it be sponsors, celebrities, supporters or friends to help me with my pitch; it's involved a lot of communication with a lot of various types of people." she said.
"Before, i used to have a negative mindset, i would always be wary of what is going to happen. I would think about the negative stuff and the negative would come back to me. Thanks to this expedition, i have become more positive and it has opened my mind." she said. De Pecol's trip to Bahrain was organized by Skal international Bahrain.