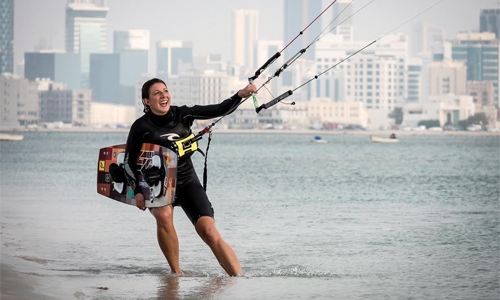 Anke's new bid to kite-surf across Persian Gulf waters
The best demonstration of passion and determination Anke Brandt can show is how dependent she is on the direction of the wind and waves that take her places.
Anke Brandt is a world record-breaking kite-surfer, having started passion for kite-surfing in 2009.
She currently holds the world record for the longest distance kite-surfed by a female, kiting all the way around Bahrain and covering a distance of 250 km.
Her previous mission of kiting around Bahrain was a one-day-mission which took a total of 12 hours.
For her next mission, she plans to be making waves when she creates a new kite-surfing world record when she kites across the Persian Gulf: from Bahrain to the UAE followed by Oman.
The distance from Bahrain to the UAE alone will be a new world record with a combined distance of 1,500km, noting that this distance has not been attempted by anyone before using a kite.
Anke Brant has been preparing for this since last January by doing a mix of weight training in the gym and yoga to keep her flexible.
"I have also been in South Africa lately to kick off, particularly the kite training, an intensive six-day-a-week training plan until the day of the departure."
Speaking to DT News, Anke Brandt said: "This time around, the main challenge will be kiting the long distance across waters that are unfamiliar to me. Wind and weather changes can happen en route and hitting debris in the waters are great dangers. The idea of Kite-surf Arabia came from a sailing competition that was held between Oman and Bahrain in the past.
This made me to think of covering the distance by kite as the wind can carry you along all the way from Bahrain to Oman. This is my dream."
Anke will have to brave the elements with some night kite-surfing. "This can be pretty frightening when you see absolutely nothing around you and have to just trust the few waves and metres you see right in front of you," she said.
Talking about the growing popularity of kite-surfing and her experience in it, she explained that "kite-surfing is actually becoming very popular and we see more and more people taking up the sport, which is great. I think lack of beaches is still an issue. We kite-surf at new developments mainly but we know these beaches are not there forever.
Amwaj islands has been great in the past years, letting us use the free sights for kite-surfing and letting us hold several events.
It would be great to have more spots like this and best case more permanent spots as this would give people who want to learn an idea where to go and would also make the sport saver."
"Kite-surfing is not a cheap sport and the first investment into new equipment can be discouraging. You are also dependent on the wind and if you have a full time job it can be that you miss out for weeks on good winds because you are in the office, which makes progressing, especially after the slow beginning. This is the reason why for now I am only working part time on projects that come along and searching for sponsors to make this dream come true to not only achieve another world record but also raise money and support a charity organisation to find a cure for spinal cord injury."
With her raised awareness for 'Wings for Life' in the past, she plans to keep the campaign running along with the support for the charity
organisation.
Feel free to support by contacting them at kitebeyond@gmail.com or donate at www.justgiving.com/kitesurfarabia