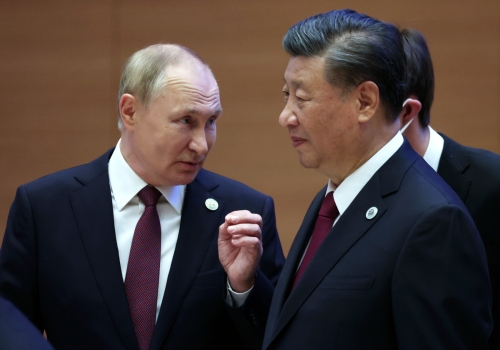 China's Xi to go to Russia on first visit since Ukraine invasion
AFP | Beijing
The Daily Tribune – www.newsofbahrain.com
Chinese President Xi Jinping will make a state visit to Moscow next week, where he will hold talks with his strategic ally Vladimir Putin just over a year into Russia's war in Ukraine.
Xi will be in Russia from Monday to Wednesday, Beijing's foreign ministry and the Kremlin said on Friday.
China's foreign ministry called Xi's trip "a visit for peace" that aimed to "practice true multilateralism... improve global governance and make contributions to the development and progress of the world".
The two leaders would exchange views on bilateral relations and major international and regional issues, ministry spokesman Wang Wenbin said at a regular press conference.
"At present, changes not seen in a century are rapidly evolving, and the world has entered a new period of turmoil," he said.
"China will uphold its objective and fair position on the Ukrainian crisis and play a constructive role in promoting peace talks."
The Kremlin said the two presidents would speak about "strategic cooperation" and "discuss deepening the exhaustive partnership and strategic cooperation between Russia and China".
Xi's visit comes just over a year after Russia invaded Ukraine, kicking off a war that has isolated Moscow on the international stage.
China, a major Russian ally, has sought to position itself as a neutral party in the conflict, urging Moscow and Kyiv to resolve it through negotiations.
In a 12-point position paper on the war last month, China called for dialogue and respect for all countries' territorial sovereignty.
But Western leaders have repeatedly criticised Beijing for failing to condemn the invasion, accusing it of providing Moscow with diplomatic cover for its war.
The United States has accused China of mulling arms shipments to support Russia's war -- claims Beijing has strongly denied.
- China the peacemaker? -
Ukraine's President Volodymyr Zelensky said in February he was planning to meet Xi after Beijing called for talks.
The Chinese foreign ministry did not confirm on Friday whether he planned to do so.
However, the two nations' foreign ministers held a phone call on Thursday, the first since China's Qin Gang took office.
Qin urged Kyiv and Moscow to restart peace talks "as soon as possible", adding that "China is concerned that the crisis could escalate and get out of control", according to an official readout.
His Ukrainian counterpart Dmytro Kuleba said the call included discussion of "the significance of the principle of territorial integrity", without giving details.
Formerly socialist allies with a tempestuous relationship, in recent years China and Russia have deepened cooperation in the economic, military and political sectors as part of what they call a "no limits" partnership.
Both sides have frequently emphasised the close relationship between Putin and Xi, who began a third five-year term as president this month in a break with longstanding precedent.
Xi last visited Russia in 2019, while Putin attended the opening ceremony of the Winter Olympics in Beijing last year and the two leaders also met at a regional security gathering in Uzbekistan in September.
Xi, 69, also helped spur a China-mediated deal to restore ties between Saudi Arabia and Iran last week.
"Whether (China) is actually stepping up its efforts to play peacemaker in a meaningful way will depend on the substance of what it proposes during meetings with leaders from Ukraine and Russia," said Ja-Ian Chong, an associate professor at the National University of Singapore.
"Their previous peace plan was more about general principles than actionable proposals," the specialist in Chinese foreign policy told AFP.
- Fighter jets -
The announcement of Xi's visit came after Poland said Thursday it would deliver an initial batch of four MiG-29 fighter jets to Ukraine, in what would be the first such shipment by a NATO member.
Slovakia followed up Friday with an offer of 13 MiG-29 warplanes for Kyiv, which has long requested fighter jets from Western allies ahead of an expected uptick in fighting in the spring.
"We will hand over 13 of our MiG-29 jets to Ukraine," Prime Minister Eduard Heger told reporters, adding that Bratislava would also deliver a Kub air defence system to Ukraine.
The batch will include 10 operational jets and an additional three that have not been in use since 2008.
Slovak Defence Minister Jaroslav Nad said the transfer would take "a couple of weeks".
"Our steps are fully coordinated with Poland and Ukraine," Heger said, adding that his government "stands on the right side of history".
Ukraine had been primarily seeking modern US-made F-16s.
The Kremlin said on Friday the fighter jets given to Ukraine by Poland and Slovakia would be destroyed, and repeated that Western arms deliveries to Kyiv would not change Russia's military aims.
"The supply of this military equipment -- as we have repeatedly said -- will not change the outcome of the special military operation... Of course, all this equipment will be destroyed," Kremlin spokesman Dmitry Peskov told reporters, using the official term for Moscow's military intervention.