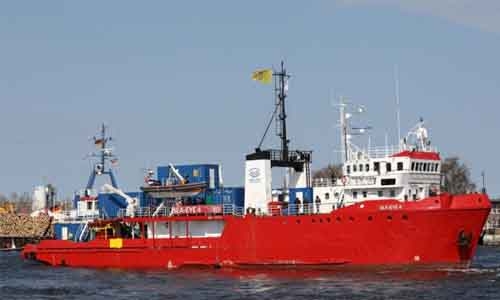 German rescue ship with 800 migrants given approval to dock in Sicily
Agencies | Rome
The Daily Tribune – www.newsofbahrain.com
A German migrant rescue ship carrying more than 800 people has been given permission to dock at the Italian port of Trapani.
The Sea-Eye 4, which is operated by an aid organization of the same name, is carrying more than 200 minors and five pregnant women, Deutsche press agency (dpa) reported.
On Saturday, the ship had cruised off Sicily as it awaited permission from Italian authorities to let it dock.
The arrival in Trapani, on the western tip of Sicily, is expected on Sunday.
"We are relieved and overjoyed that the difficult hours for our crew and the rescued people will end on Sunday and that the people will finally be safe in Italy," Gorden Isler from Sea-Eye said.
He said he was "Appalled" by "Malta's failure to provide assistance."
The island state did not respond to emergency calls over the course of the week, he said.
The Sea-Eye 4 rescued more than 800 migrants from the central Mediterranean in several operations between Tuesday and Thursday.
Around half of them were taken out of an overcrowded wooden boat that was filling with water.
The first destination was the island of Lampedusa. However, the ship was not allowed to dock there.
The ship then continued towards Sicily as chances there were considered better and the weather was getting worse, Isler told dpa.
On Saturday, Mission Lifeline's Rise Above charity ship supplied the Sea-Eye 4 with food and blankets.
In addition to the Sea-Eye 4, the Ocean Viking, which belongs to the European aid organization SOS Mediterranee, is operating in the central Mediterranean Sea between southern Italy, Malta and North Africa.
The Ocean Viking was said to have 314 migrants on board.